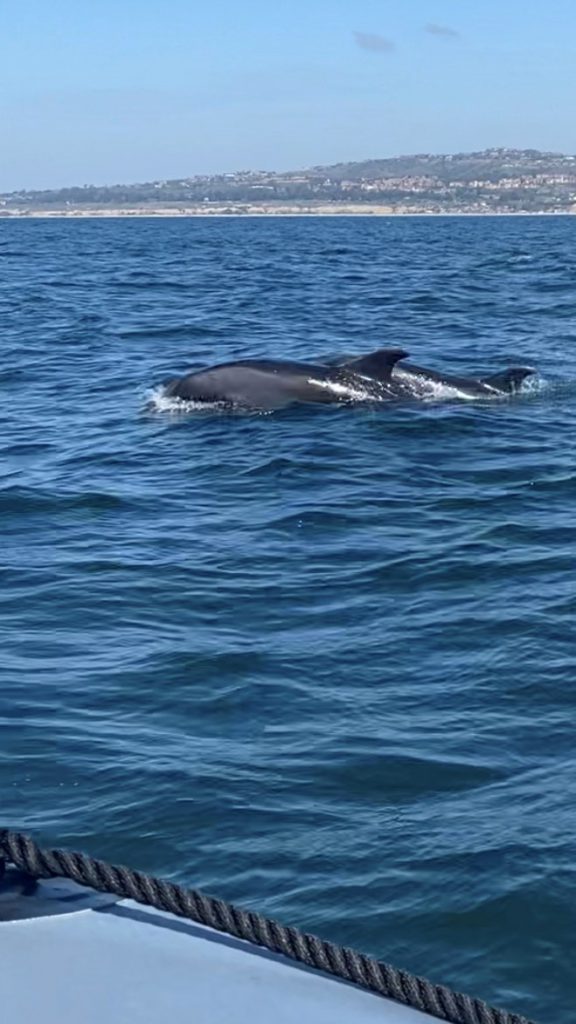 As I mentioned in a previous post, Newport Coast Villas is more restricted in March 2021 compared to July 2020 https://maxingmarriott.com/2021/03/20/all-things-newport-coast-update-march-2021/. That does not apply to businesses opening up and providing tours, excursions, and adventures. We looked into whale watching during our visit there, and decided on Newport Coastal Adventures http://www.newportcoastaladventure.com/. It had great reviews, and I liked the idea of riding in a Zodiak instead of larger boat. It was really fun, and well worth it!! The above picture was taken from our boat — remember we are on a small boat, so those dolphins were very close — and there were LOTS of them. We also saw some grey whales, and sea lions. It was particularly cold and windy that day, but the captain warned us, so we grabbed an extra layer and were fine.
I recommend you go to their website to make your reservation. I called a few days later to confirm some information, and waited in a cue for about 15 minutes — online is much faster. If you don't receive an email explaining where and when to go, including parking, check your junk email — it probably went there.
We chose "The Ultimate Whale Watch Aboard Custom Zodiac" option. It costs $66.50 pp and there are 15 people max on the boat. It's a little pricier than other tours, but the boat is fast and small and you see twice as much and get closer. I thought it was worth the extra fee.
DRESS WARM!! It might seem sunny and warm, but out on the water it is at least 10-20 degrees colder, and if the wind is blowing it is downright cold!!
ARRIVE EARLY! They recommend you arrive an hour before your scheduled tour. Don't short change that, especially if you haven't been there before. Finding parking might be difficult. We originally went to a 2-hour parking lot, and ended up going to a parking garage on the back side of the building where we check in (we followed the signs). They require CASH ONLY, and you pay when you leave. There are ATM's everywhere, so getting the cash if you don't have it isn't difficult. And you can have your parking validated where you check in. It only cost us $14 for about 4 hours, and was totally convenient to where we were going.
We checked in early, and then walked around. We bought a souvenir sweatshirt, which we ended up wearing because it was pretty cold. We also rented their binoculars for $5 each, but never used them. Maybe if you were on a larger boat up high they would be good, but for our zodiac, they were not needed at all. So DON'T GET THE BINOCULARS!
BE FIRST IN LINE SO YOU CAN SIT IN THE FRONT. In the back of the zodiak you have a somewhat obstructed view and might get splashed from the water. We were in the front seats — GREAT view and stayed DRY!! They were very knowledgeable about the wildlife we saw, and I learned things about sea lions I've never heard before. I've been on 2 other whale watching experiences in other places (Kauai and Maui), but this was one of the best. The boat is zippy and smaller, enabling us to get closer to the wildlife. Some months are better at seeing whales than others, so do you research before you invest in your time and money.