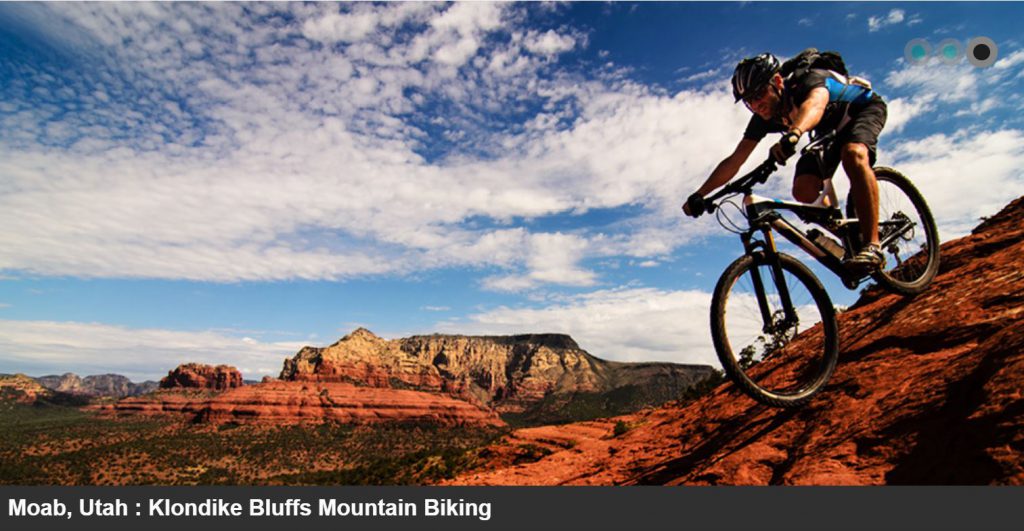 Anyone who mountain bikes knows about Moab. Moab, Utah has become the undisputed "Mecca" for mountain bike enthusiasts by virtue of its beautiful red rock terrain, views that go on forever and trails that range from beginner to advanced and suit all riding abilities. MVC offers mountain biking experiences through their Explorer Collection — "only" 325 MVC per person. That includes everything you will need: 1st rate bike and helmet, water bottle and snacks, transportation to trail head, and a professional guide. All you need to do is show up. One of the options, the Courthouse Loop Trail, is for beginners. The other two activity options, Intrepid Dead Horse Point and Klondike Bluffs, are for intermediate bikers.
Let's talk about what would makes this an amazing option for some real ADVENTURES! Start off by staying at 1 of the 3 Marriott hotel properties, Element Moab that just opened, Fairfield Inn & Suites Moab, or Springhill Suites Moab — all Category 6 hotels. One night would cost you about $300+/night or use MVC points at these hotels for 275-800 MVC a night. You could also use 50,000 Bonvoy points to stay here for one night.
Anyone who has followed me for very long knows that I focus on "good deals" in using your MVC points. Yes, it would be fun, but NO it is not a good value. It only equates to about 33 CENTS per point — way way way lower than the value you would get if you traded to stay at a MVC property instead. Here again, if you are more concerned about convenience and you have points to burn this would be a fun way to use your points. But if you are trying to milk all the trips and values out of your MVC points as possible, pass on this activity using MVC points.