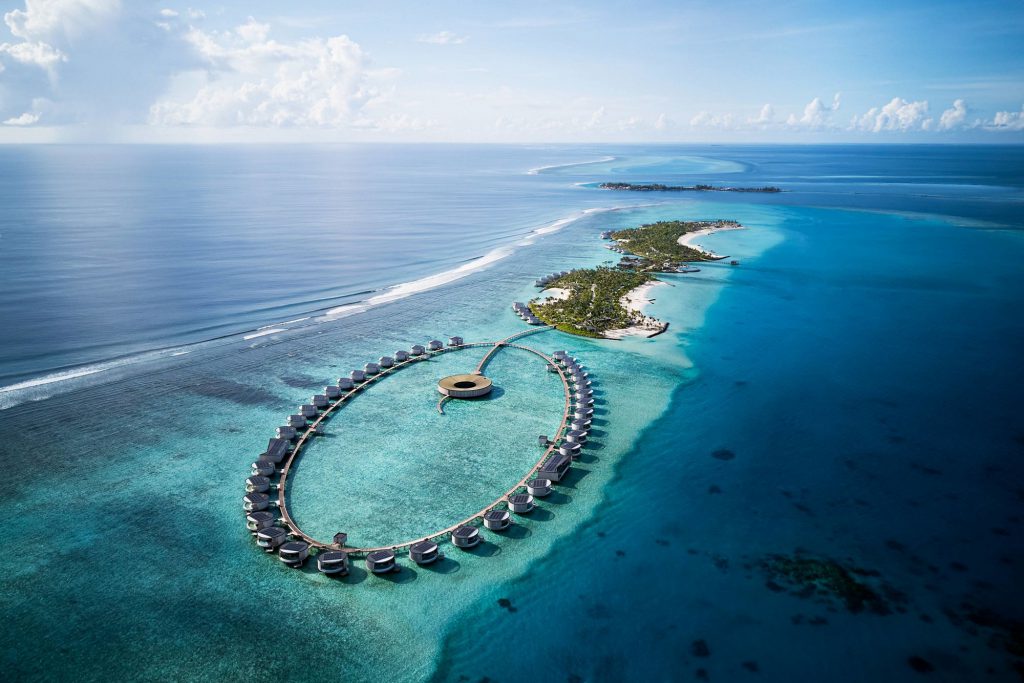 Anyone who knows me at all knows I love staying at a Ritz property. They just do everything so well — the room, the service, the food — best way to make memories. Well, combine that with an AMAZING location, Maldives, and you've got something that will be life changing! Can you believe this photo? Imagine the adventures that await you. Let me give you some specific details about this property (you might want to sit down for this, as you may just hyperventilate!!)
To get here, you must take a 10-minute sea plane ride or a 45-minute boat ride from Valana International Airport.
The villas are Ocean pool, 1 bedroom for the lowest cost; Lagoon pool, 1 bedroom; Beach pool, 1 bedroom; 2 bedroom water villa; 2 bedroom beach villa; and an estate 3 bedroom villa for the most expensive. At this property, the beachfront villas are more expensive than the ocean pool villas because of the beach access. Considering the image below is the CHEAPEST villa to stay here, it won't take an upgrade to absolutely love your villa!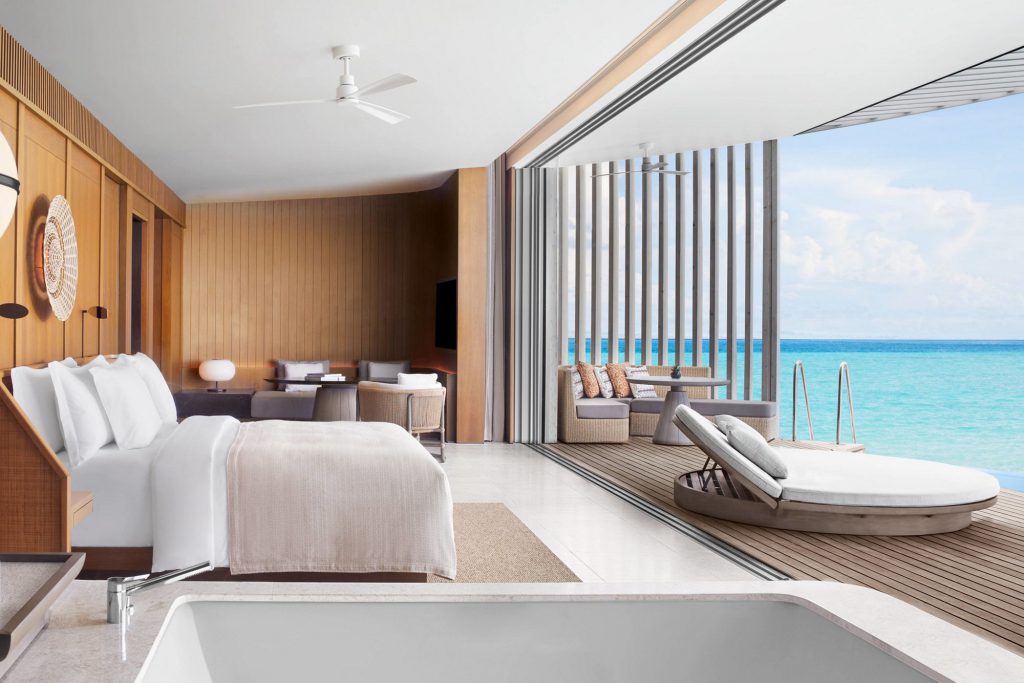 There are 5 restaurants onsite, and more options at the nearby marina — about 10 minutes by dhoni (traditional fishing boat).
The activities can't be beat. EVERYONE would have a unique experience never done before if they stayed here. Some of the options are family cooking class, bike safari, "Wonders of Water" ocean mystery adventure, treasure hunts, lessons with expert drone cinematographer, swim with dolphins and manta rays, tennis lessons with pros, and even a boduberu drumming class. That doesn't even begin to explain the experiences you would have at their top-rated spa.
How much would this cost, you are thinking? I was surprised at what I found — both good and bad. The above image showing the Ocean Pool villa is around 350,000 Marriott points TOTAL for 5 nights. The lowest I found was 280,000 and the highest was 400,000 points — not bad for the villa and property you are getting. In fact, I would say it is an AMAZING DEAL!!! If you want a little more luxury, the other rooms increase substantially. If you get a 2-bedroom villa for 5 nights, the cheapest villa is 3,030,000 Bonvoy points — yes you read that right — 3 million 30 thousand points! But before you faint from shock, the 3-bedroom villa is a . . . . . . 20,280,000 points — over 20 MILLION Bonvoy points. No one would have that, so you would have to fork out over $21,000 a night.
Marriott link to this property: https://www.ritzcarlton.com/en/hotels/maldives-fari-islands
From my observations with these new properties, the cost to stay at them are lower for a few months, and then the price increases closer in line closer to other similar properties. And believe me, 280,000 Bonvoy points for 5 nights at this property — run, don't walk to your computer. You can only reserve through December 22, 2021.