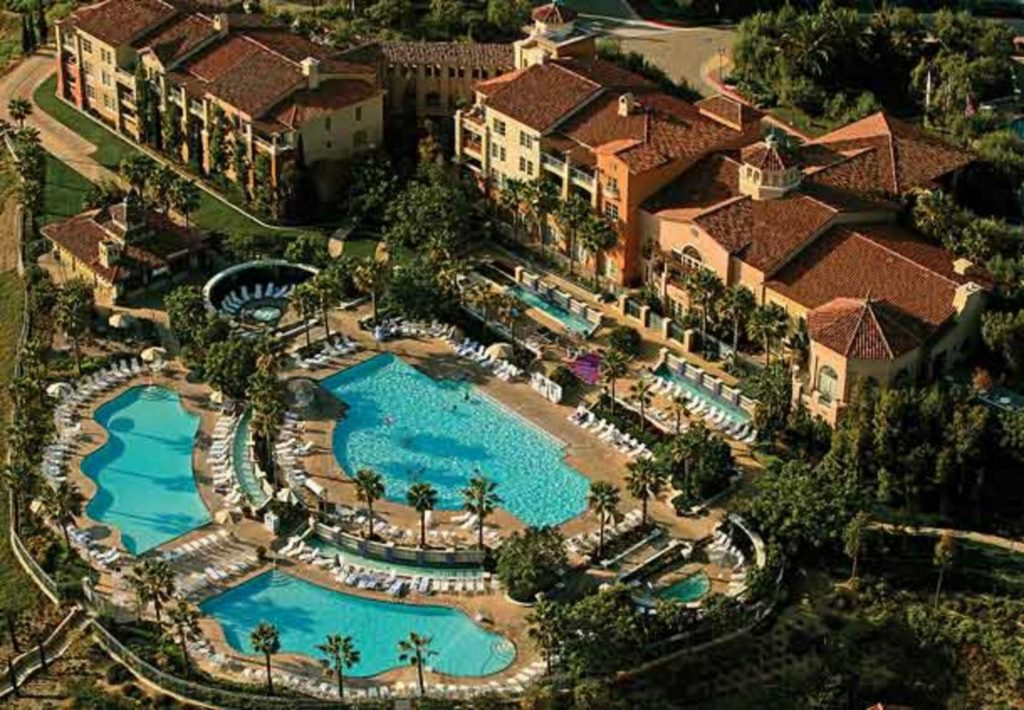 All About the Property
Marriott's Newport Coast Villas currently is one the largest MVC property. Not only is it perched on 75 beautiful acres overlooking the ocean, it contains almost 700 villas — all 2-bedroom units. That's one reason why it's a great property for families. The rooms are large, and with all of them being 2 bedrooms, you can get 8 occupants into each villa. The downside of that is if you have only 2 people traveling, you must reserve a 2-bedroom villa, and can't opt for a studio or 1-bedroom.
The location isn't actually ON Newport Beach. It is located on a bluff above Crystal Cove State Beach. Walking down the sidewalk next to the Newport Coast Drive and crossing Highway 1 gets you onto some nice paved walking trails, many of which takes you down to the beach. It's a little over a mile to the beach, but honestly one of our favorite things to do each morning is to walk that path — as it's a nice walk. Little kids might have trouble walking that far though, as it is steep in a few areas.
When to Go to Newport Coast Villas to Max Your Points
The weather is pretty good all year round, but sitting by the pool or on the beach is pretty cool (nice way of saying cold in mild climates) October through March. To get more specific on dates, let talk STRATEGY, and it is VERY different, depending on whether you own a week or points.
Going to Newport Coast Using Points
Since all villas are 2-bedrooms, this is a great value for your points pretty much all year round. The busiest week is the 4th of July taking 5675 Destination points to stay during that week. Christmas is 4950 points. The 2nd highest season is between July 8 – Aug 11 at 4725 for the week, and January – June 2, or August 12-Sept 15 is the 3rd highest season at 4225 for the week. Honestly, anytime April – September 15 is a good time to go to this location. But to MAX your MVC points, I suggest you go for 5 nights, Sunday through Thursday during one of the first 3 weeks in June. The weather would be great, and it would only take 2125 Destination points. Again, that is staying for 5 nights in a 2-bedroom villa with great weather in the summer — a STEAL of a deal!!! An entire week would be 4225 during the same 3 weeks — twice as much as the 5 suggested days Sunday through Thursday. (My general rule of thumb is if I drive to the resort, I stay 5 nights Sunday through Thursday night. If I fly, I stay a week).
Having Newport Coast as Your Home Resort
If you're home resort is Newport Coast Villas, and you are staying or depositing your week, the strategy is opposite of when you use points. Instead of going when it is slightly off high peek to maximize your points, you schedule for the HIGHEST peak time period you qualify for. If you are Gold status, you can only go off season January to June 10th –Platinum is every week EXCEPT 4th of July and Christmas. Platinum Plus includes the 4th of July. So, for instance if you have Platinum Status, you would schedule the week next to the 4th of July — Platinum Plus you DEFINATELY reserve the week over the 4th of July. In comparing the Destination Points to see the value, it would take 4725 to reserve a week after the 4th of July. If you elected your week into Destination points, you would only get 3475 points — You "save" 1250 points! Bottom line — to MAX your value, reserve the highest season possible. Owning a week at Newport, and scheduling your home resort, you are the "top of the chain" and will get highest priority in reserving your request.
If you own a week at another resort and want to trade into Newport, that can be difficult to do. That's because Marriott does not mix inventory. This means that Marriott only allows owners of weeks trade to the inventory of owners of weeks for each resort. If you are trading a week to get into Newport, you have to wait for a Newport week owner to relinquish or trade out of Newport. And Trust point owners can only use trust point inventory.
If you want more explanation on how this works, send me a message and I'll explain it in more detail. Just know that the sooner you reserve Newport, the better your chances of getting into Newport. During the summer and early fall, it is usually booked, and has been for months.