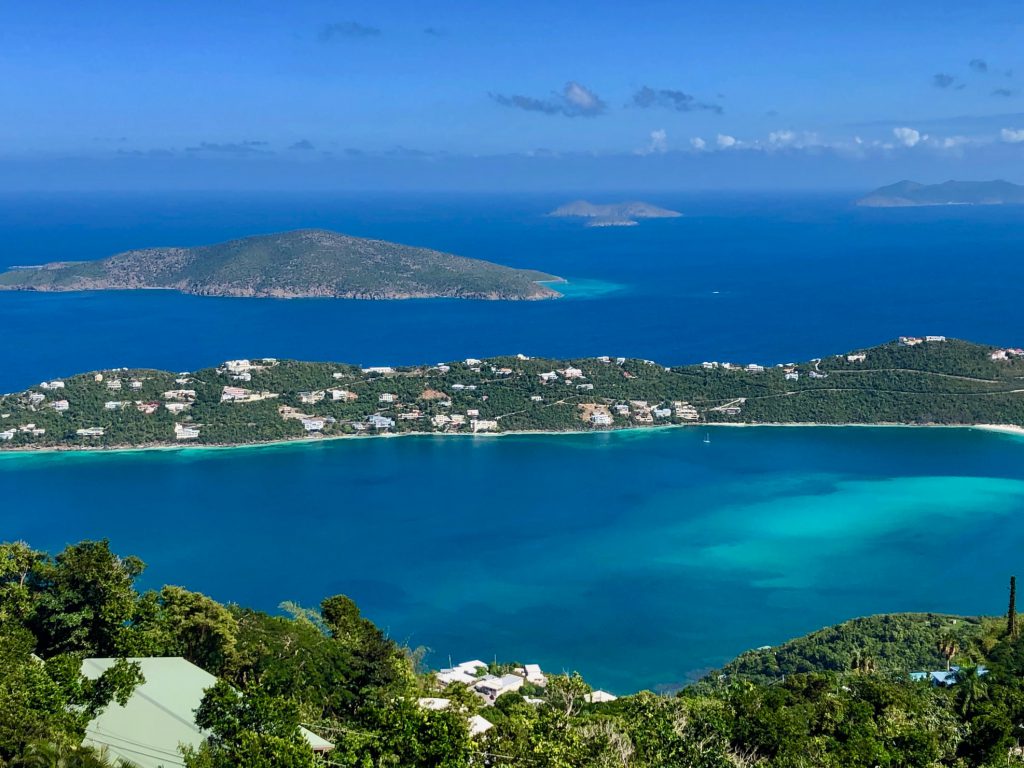 There are 12 different airlines that fly to St. Thomas, among them being American, JetBlue, Delta, United and Frontier airlines. But before you touchdown on the island, you need to do some prep work.
COVID Requirements
St. Thomas has specific requirements that must be met before you arrive, if you want to avoid quarantining. You've probably heard of some horror stories of people who had their whole vacation ruined because of a positive test or some fluky thing happen. And I'll admit, the week before getting my COVID test, I was a little more nervous about getting a positive test and being asymptomatic. Despite the increased anxiety and the COVID Rapid PCR test, I found the requirements to be easy to meet and quick to process once we arrived.
You must register on the USVI Travel Portal 5 days or less before you arrive https://www.usvitravelportal.com/. All domestic travelers, 5 years of age or older and all international travelers, 2 years of age or older, who enter the U.S. Virgin Islands by air or sea, and anyone in transit to another destination, are required to use the USVI Travel Screening Portal and get cleared to travel to the USVI.
Domestic Travelers (includes U.S. mainland and other U.S. Territories): Domestic travelers must submit a negative antigen or NAAT COVID-19 test result within 5 days of travel.
International Travelers (including travelers from the BVI): All International travelers must submit a negative antigen or NAAT COVID-19 test result within 1 day of travel.
You can't preregister earlier and upload your COVID test results later — it all must be done within 5 days of travel for Domestic Travelers. It basically requires your personal information, and travel information including who you are traveling with. Note there are two types of tests accepted. Check with your state department's health center to see where you can get the appropriate tests. Many airports now provide them for convenience, but you pay a fee for it.
We checked with our health department and found the fees to be anywhere from $165 – $320 per test — EXCEPT at the State Health Department site. If we went there, we were able to stay in our car, drive up to the "Travelers" testing area, have our nose swabbed, and have the results emailed to us within an hour — FREE!! It was an hour drive from our house to get there, but totally worth it. So check with your State Health Department and see if such a service is available for you.
Uploading the COVID test and vaccination records were easy. It takes them a day or two to review your application, and then you will receive a green QR code that will be scanned when you arrive at the airport. That's your "green ticket" to go!
Request Your Room
Ritz-Carlton will send you an email about 2-3 weeks before you arrive giving you instructions and answering any questions you may have before you get there. They were excellent in clarifying COVID requirements, and making reservations for activities and restaurants that we wanted. It was a wonderful source of information and help.
Make sure you request your room location. The Ritz Club is comprised of 5 buildings, and I think all would be a great choice. But definitely request a HIGH floor if you want a view. Having said that, I saw some families on the 1st floor walk out their balcony and were only steps away from the beach — they seemed to like that. I included a map of the building so you can get a perspective of where things are. To the left of Gardenia as you look at the picture is the Ritz-Carlton hotel, and you can use their amenities, too. We stayed in the Helconia Building, and it was great because the pool and beach for the hotel was just as close as the pool and beach at the Club. They even charge our room at the Club when buying food or drinks at the hotel.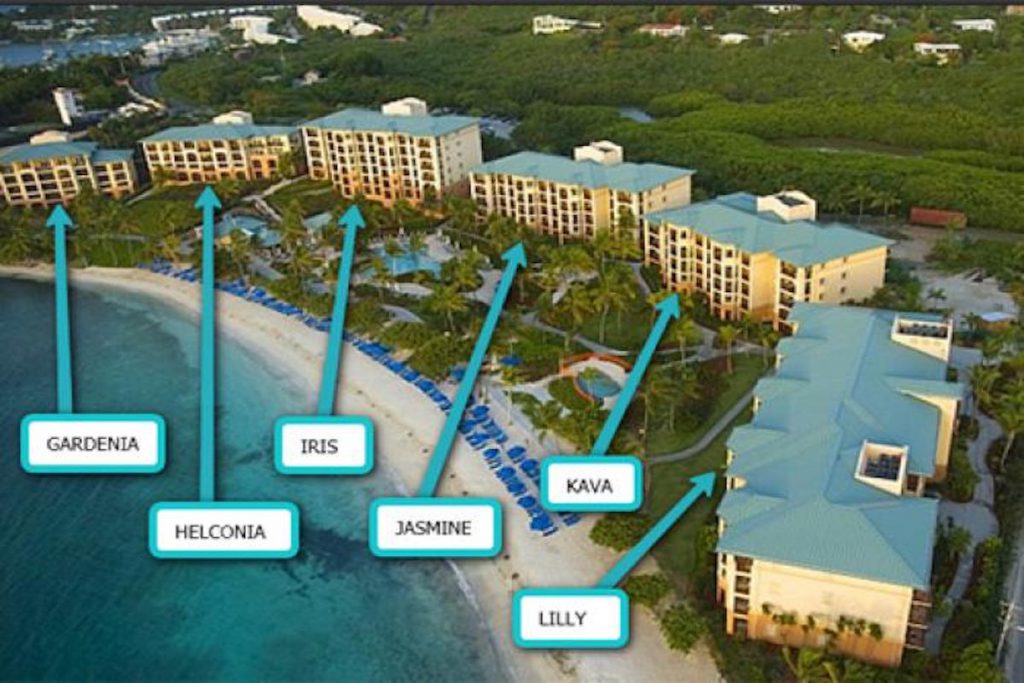 Order Groceries
Frenchman's Cove has a grocery service that you can order online and have all groceries delivered to your villa. There is a fee attached. There are a number of grocery stores fairly close to the property and unless convenience is the number one goal, I would forego the grocery service and go to a nearby grocery store to save some money especially if you have a rental car.
Ritz-Carlton St. Thomas While staying at the Ritz, I personally liked ordering groceries to be delivered, though I'll admit it was expensive. Our flight plan had us flying all night, a layover in Atlanta, and then arriving at St. Thomas at 2:30 in the afternoon. We were dead tired and hungry, and it was nice walking into our villa and having a fully stocked refrigerator to run to. Moe's is a nearby grocery store (about 1.5 miles away), that delivers to the Ritz. I would recommend you order MORE THAN TWO DAYS before arrival to save money on the delivery fee — it is $35 if you order more than 48 hours out and $65 otherwise, with a $30 cancellation fee. They also add 10% to the total price for their fees. https://moesmarketplacevi.freshopsites.com/. They deliver about 3:00 pm daily, and the Ritz staff will put it in your villa for you when you.
What to Pack and What Not to Pack!
I had read somewhere that you didn't need to pack sunscreen if staying at the Ritz — they provide it for you. And that is true. There are sun screen pump bottles at every towel station. However, we packed our own sunscreen, and am glad we did. My husband put on their sunscreen yesterday while we were walking, and it didn't rub in very well — his face looked like a ghost! I had a great laugh while he scrambled to find a towel to rub it off — just thinking about it, I'm chuckling to myself!! So I recommend you pack your own sunscreen.
You also need to bring cash. All taxis are cash only — getting from the airport was $105 before the tip. Going into the nearby town of Red Hook for dinner — $5 per person each way. We had pizza delivered — cash — no delivery fee and just tip the driver, but cash only. We've been to the ATM already to get some cash ($200 limit), and there is an ATM on the Ritz property, so you don't need to go hunting for one somewhere. Of course all restaurants on property charge directly to your room.
We are traveling with a 2-year old, and they have a whole bunch of extra packing needs. One item that we wish we WOULDN'T have packed is the car seat. Laws here don't require toddlers to be in car seats as long as they are with an adult. And since we didn't rent a car, our trips in a taxi are short. The parents feel totally safe having him sit between them in the car or van on our excursions. We even rode in "Daniel Tiger's Trolley" (open air truck with benches) on our way back from our restaurant tonight — best day ever for our little guy!!
Great preparations before your trip can take stress out of your travels. Take time to learn what you need to do and take before you arrive for your situation.