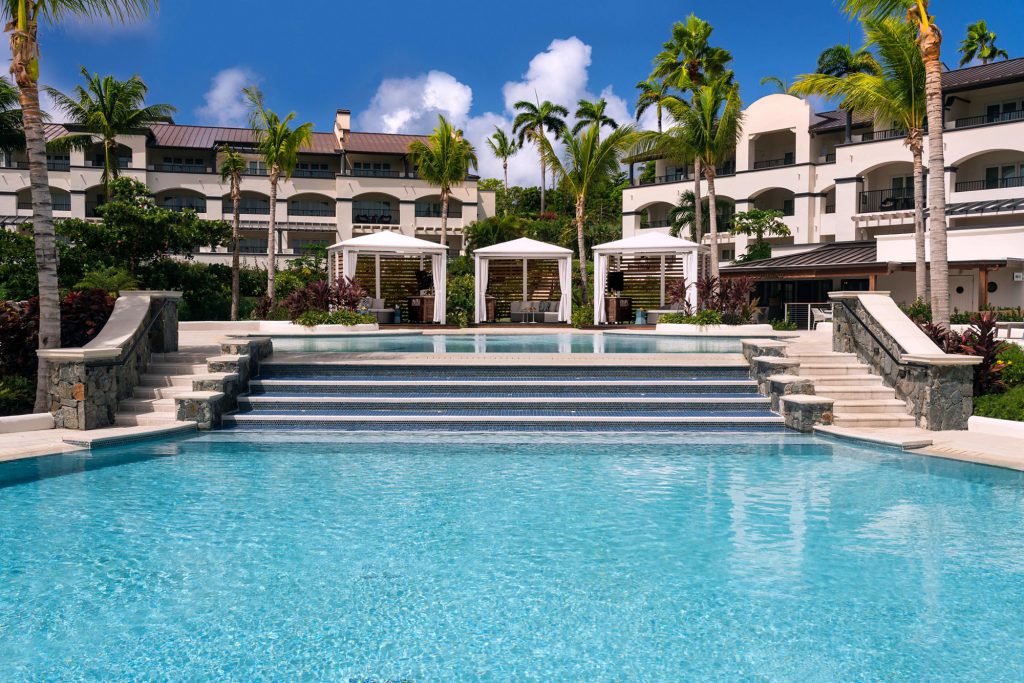 POOLS
One of the best advantages of staying at the Ritz-Carlton Club resort is that you can use the amenities at the Ritz-Carlton hotel located next to you. Even though the above image of the Kiddie Pool is at the hotel property, we were able to use it during our stay. When checking in at the Club, we were told there would be a nominal fee to use that pool, but we used it all week — all the pool attendants knew we were staying at the Club — and they never modified their service or requested a fee.
The Club property has a main pool, numerous hot tubs, and a kiddie pool — all were heated and warmer than the adjoining hotel pools. The kiddie pool at the Club property was the size of a large hot tub, round in shape, and was only 1 1/2 – 2 ft deep. We never saw anyone in that pool, and it was perfect for our two-year old to play with toys on the sides. Since it was so shallow and warm, our grandson could play in it by himself.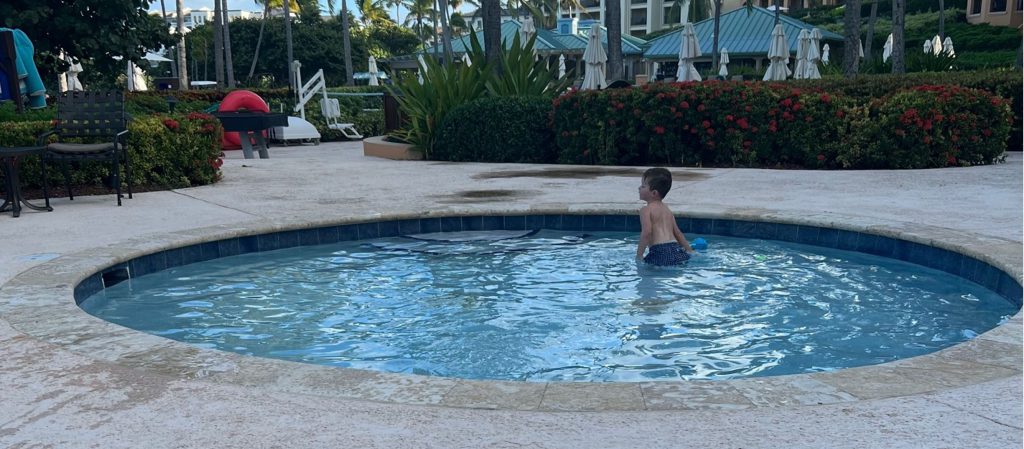 The Hotel property had the AMAZING Kiddie pool! What you don't see is the water slide that drops down into the lower part of the pool — slow enough that our 2-year old enjoyed going on it with his dad. It was a little deeper than the Club kiddie pool, and got to about 3 feet deep in parts. But this pool was colder water, and both parents and child could only stay in it about an hour before they had to get out and get warm. We never had anyone else in the pool when we were there.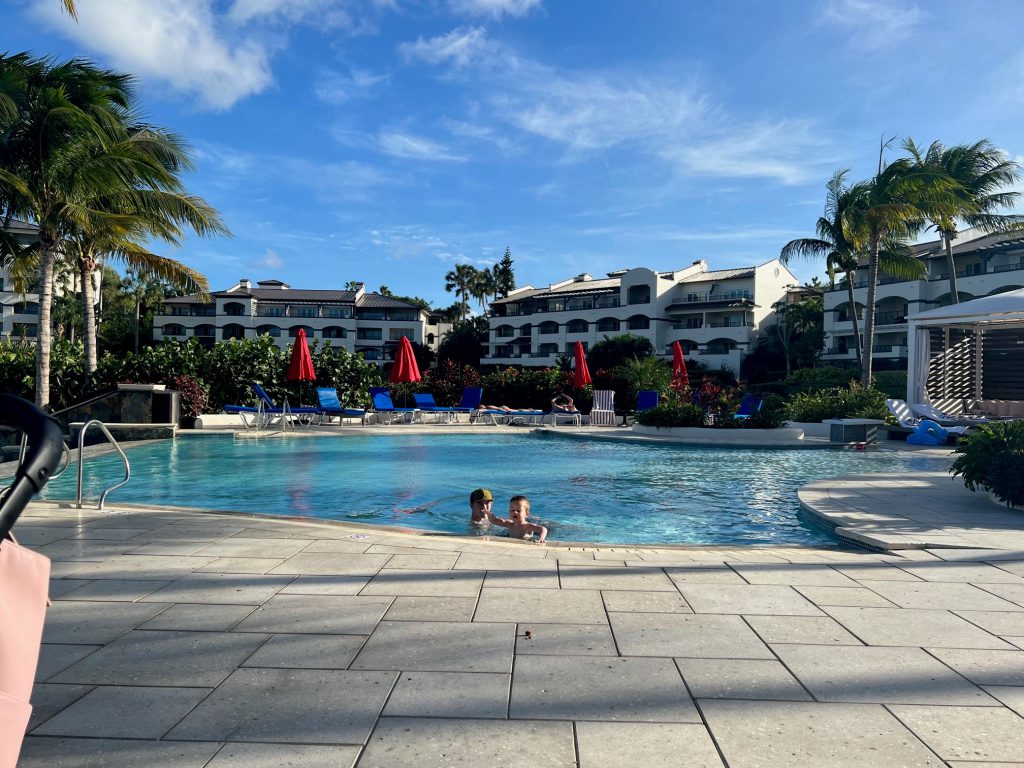 A BIG hit was the splash pad for our 2-year old grandson. Again, there was never another child at the splash pad while we were there. The material the children ran on at the splash pad (they never can walk here) was soft and rubbery so it wasn't slippery at all.

Beach
I love the beaches in St. Thomas — the turquoise warm water in the Caribbean is something you don't get in Hawaii. The beach at both the Club and Hotel properties are mellow and located in a bay with gently rolling waves that are fun to jump for small children. As you can see in the picture, a little way offshore, the water turns darker — that is where grass grows under the water. Sometimes a lot of grass washes on shore (didn't happen while I was there, but I've seen pictures from guests that claim it was 2-3 feet high along the shoreline!). And in most places, there was a little bit of the grass in the surf. It isn't soft long green grass strands, but short yellowish matted plant-like grass — you can see it on the sand in the picture below.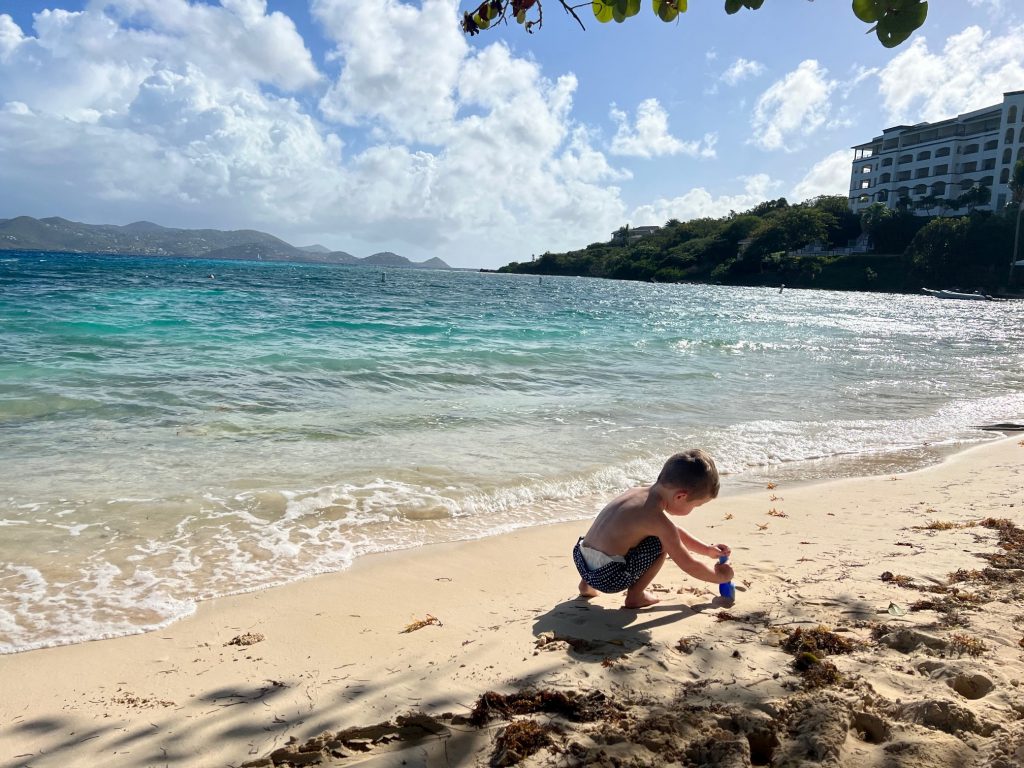 Other Water Activities
There is a daily resort fee charged to hotel guests, and as a part of the daily resort fee, guests have access to all non-motorized equipment including:
Stand up paddle boards
Kayaks
Hobie cats
Snorkel equipment
As a Club guest, we were not charged the daily resort fee, but if we wanted to use any or all of the above equipment, we would need to pay the fee ($75) for our entire group to use all of the items for a day. Considering the size of our group, I thought that was very reasonable.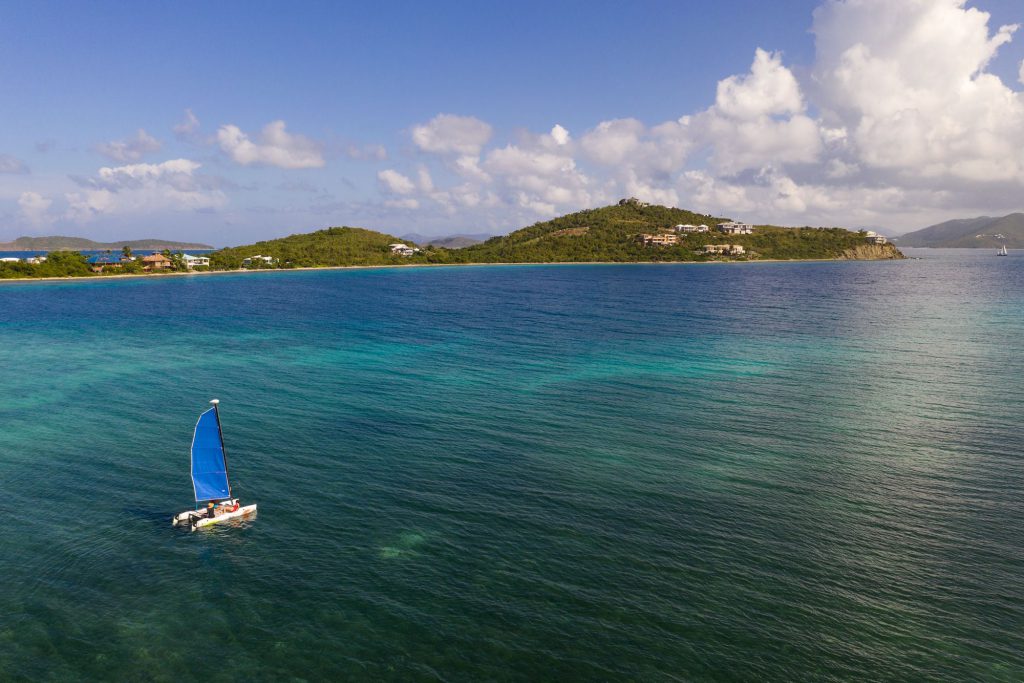 All of the activities listed below are recommended by the Ritz staff.
Parasailing
If you are interested in parasailing while you are there, check out https://parasailvirginislands.com/ .
Coral World
Coral World is a museum/park of sea creatures and coral. The submarine ride and underwater observatory is currently closed. Check out the website for prices and available services. You even have the opportunity to do some Sea Trekking and "Snuba". We did a night scuba dive off the beach right next to Coral World. It was amazing with lots of lion fish, eels, sleeping parrot fish, coral — one of the best night dives ever! And the water entry was easy off the gently sloping beach. Coral World Ocean Park
Private Island Jeep Tour
Island Buddy offers private island tours in Jeep Wranglers which makes it a lot more fun and interesting for visitors. They will tailor these tours to your liking. Whether you'd like to snorkel, hike, or visit some of our local attractions, Island Buddy will create a tour specific to your preferences. They also arrange for you to be picked up from your desired location. The current rate for a full day excursion is $350.00 per jeep.
Horseback Riding
Golden Age Ranch, which is a highly experienced animal "sanctuary", caring for thoroughbred horses is a great place to reserve for a horseback ride on St. Thomas. You have the option of enjoying a horseback ride along the beautiful Linquist beach. Their set rate is $85.00, and they prefer reservations to be done directly with them at (340) 775-6077.
St. John also has a wonderful horseback riding company by the name of Carolina Corral that is spectacular. You will enjoy our beautiful trails, beaches, and breathtaking views. You will even have a moment at the end of the session to take memorable pictures at one of our beautiful sights. Rates are $85.00 for adults and $75.00 for children. Book online with Carolina Corral , or call them directly at 340-693-5778.
Kayaking
VI Ecotours has a number of kayak excursions for you to enjoy. You can enjoy a guided kayak tour through the mangroves in St. Thomas, or a full day package with snorkeling, hiking, and kayaking in St. John.
Night Kayaking
We do offer kayaking on the property, but that does not include night kayaking. Enjoy a guided moon light tour on the calm seas, in a clear bottom kayak, equipped with LED lights. These tours currently operate at the Frenchman's Cove Resort (the other MVC Resort on St. Thomas). The rate for this tour is $49.00 per person.  Virgin Islands Eco Tours: night kayaking 
Hiking
Hiking is primarily done on St. John, since majority of the island is protected by the Virgin Islands National Park which makes them very safe trails to enjoy. Make sure you are well hydrated and walk with plenty of  liquids.  The Reef Bay Trail is one of the most popular hiking trails since there is so much history to be seen along the way ( petroglyphs – ancient writings of the long ago slaves, old sugar mills, boiler rooms and slave residence) and there is a wonderful beach at the end. The trail is about 2 ½ miles each way.
Jet Skiing
You can reserve your jet ski excursion with Coastal Watersports VI.
· 30 minutes – $75.00
· 60 minutes – $150.00
St. Thomas Food Tour
St. Thomas Food Tour is very fun because you also learn about the history as well as the architecture in downtown Charlotte Amalie.