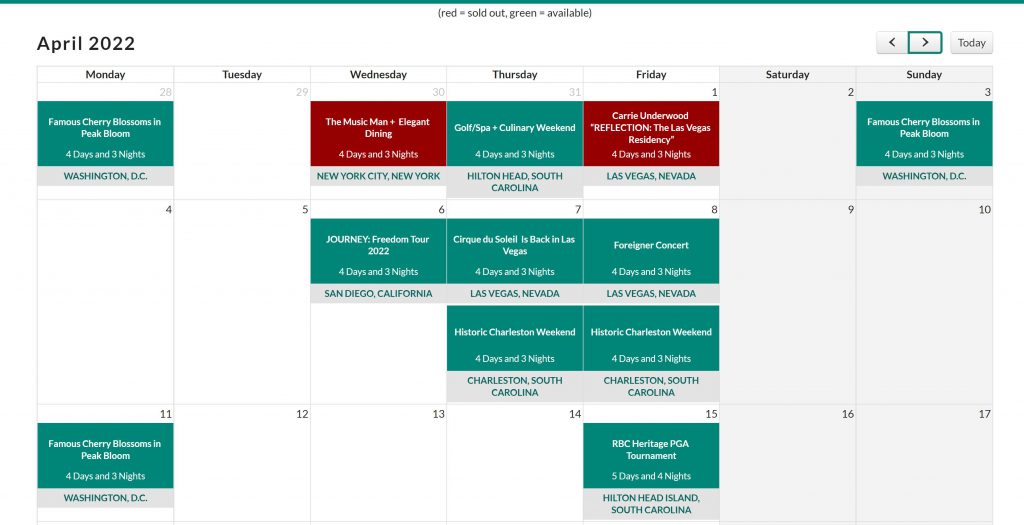 You know that I post the newest Owner Events once or twice a month. And you also know that I provide a list of current Owner Events listed in order of VALUE (retail price vs MVC point) — best value to lowest. The current list is here:
But did you know that you can view Owner Events using their Calendar option? I noticed it a few weeks ago, and thought it was way cool and convenient. Simply go to Owner Events (link in right column of home page of MVC club under Partners & Specials — or on my list linked above, each event is linked directly for your convenience). By going through the MVC club website, it takes you to the "Exclusive Owner Events" home page. On the top menu bar, select calendar and walah!! The calendar appears with a list of all Owner Events. Green means there is still availability — red means that it is sold out!
This view is really helpful if you know you have a week coming up and you feel like doing something fun or different besides just staying at a MVC resort. Go to a concert, take a helicopter tour, eat at amazing restaurants — all as part of the points used to reserve your adventures. Just a word of caution — you must call Owner Services to make your reservation, and make sure you understand the cancelation policy. It is different than a normal reservation.