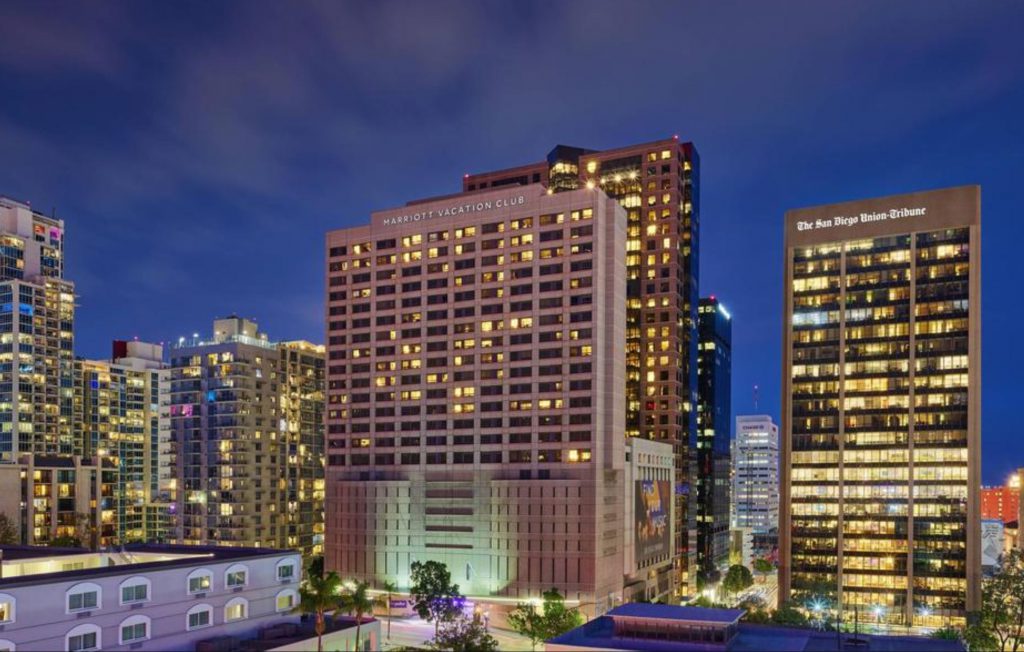 MVC Pulse San Diego opened less than 6 years ago. It is one of six MVC Pulse properties, and has some distinct differences from some of the other Pulse properties.
First you need to understand what a MVC Pulse property is and what it is not — I get that question all the time. Pulse properties are MVC places that are located in the heart of the city. What makes them so appealing is the convenience to so many activities, and restaurants — basically being in the middle of the "pulse" of the city. The rooms are smaller than other MVC properties — many of them were originally hotels and converted to hotel suites. Another difference is that at Pulse properties everyone pays for parking, Valet or self-parking. The rooms at Pulse properties don't have full kitchens, but rather a kitchenette with a toaster, coffee maker, microwave, mini refrigerator/freezer, and small dishwasher. Dishes and utensils are provided. There is no washer and dryer in the unit, but there are places you can use washers and dryers onsite.
Rooms at Pulse San Diego
The room options at Pulse San Diego are somewhat confusing the way they are listed on the website. When searching to make a reservation, you only have 1 room type option — a hotel suite — on the initial search screen. When you select an available day to reserve, you may have up to FOUR room types to choose from. One is "Hotel Suite, City View" (slightly more points to reserve for the view), another is Hotel Suite (1 king bed), one is Hotel Suite (2 queen beds), and occasionally you may find a 2-bedroom. What's confusing is that for Destination Escapes, the options to reserve a room is listed as a 1-bedroom or a 2-bedroom. What's up with that??
Here is what you need to know. All rooms are 1-bedroom. As you can see in the picture below, there is a separate room for the bedroom from the living/kitchenette area. The bathroom has two doors to enter — from the kitchenette, or from the bedroom. The couch can be made into a bed in all units, making maximum capacity at 4 guests per room. You can technically reserve a 2-bedroom unit by getting TWO 1-bedroom rooms with a door that connects them. In 2-bedroom units, one bedroom has a king bed, and one bedroom has 2 queen beds for a maximum of 10 guests. So basically, all rooms at Pulse San Diego are 1-bedroom units — different from the hotel suite you would get at Pulse New York City or other Pulse properties which are true hotel suites. That means that your rooms are larger at Pulse San Diego than the other Pulse properties, except for Boston Custom House, which is also a property with all 1-bedroom rooms.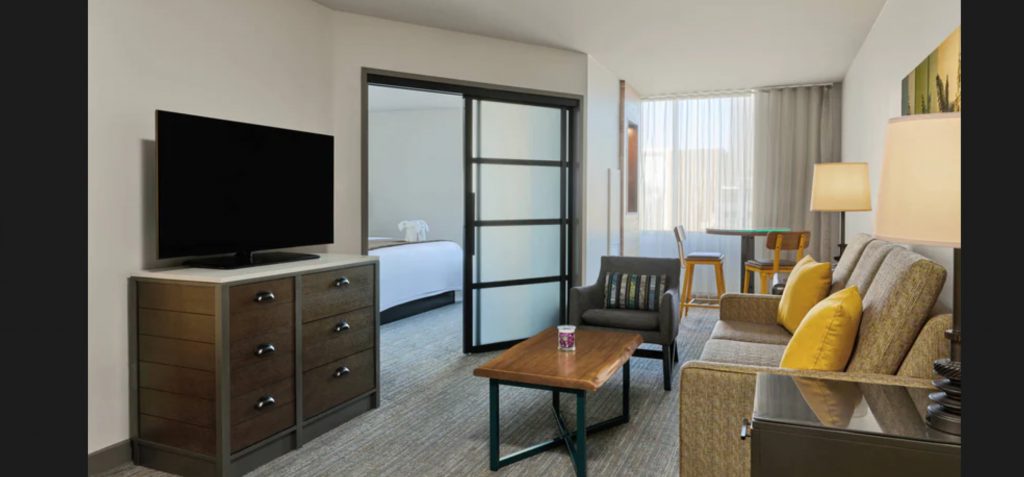 Location
The Pulse San Diego really is in a great location when visiting San Diego. You are within walking distance or short rides to many activities such as Petco Field for MLB and concerts, Gaslamp Quarter for restaurants, USS Midway Museum and other museums nearby, and Balboa Park for the iconic San Diego zoo and more museums. And best of all — you are very, very close to the Donut Bar — the most amazing doughnuts on the planet (more about that in an upcoming post)!!! The building itself is very nice and beautiful. Everything from the entrance to the elevators to the lobby is professional, clean and appealing.
Pulse San Diego is located on the top 14 floors of a tower. If you look at the first picture in this post, the lowest floor of rooms is where the windows start. Top floor is 27, self-parking garage is on level 11. As I have explained before — https://maxingmarriott.com/?s=how+do+I+get+that+room — call at least a week before you arrive and request a high floor.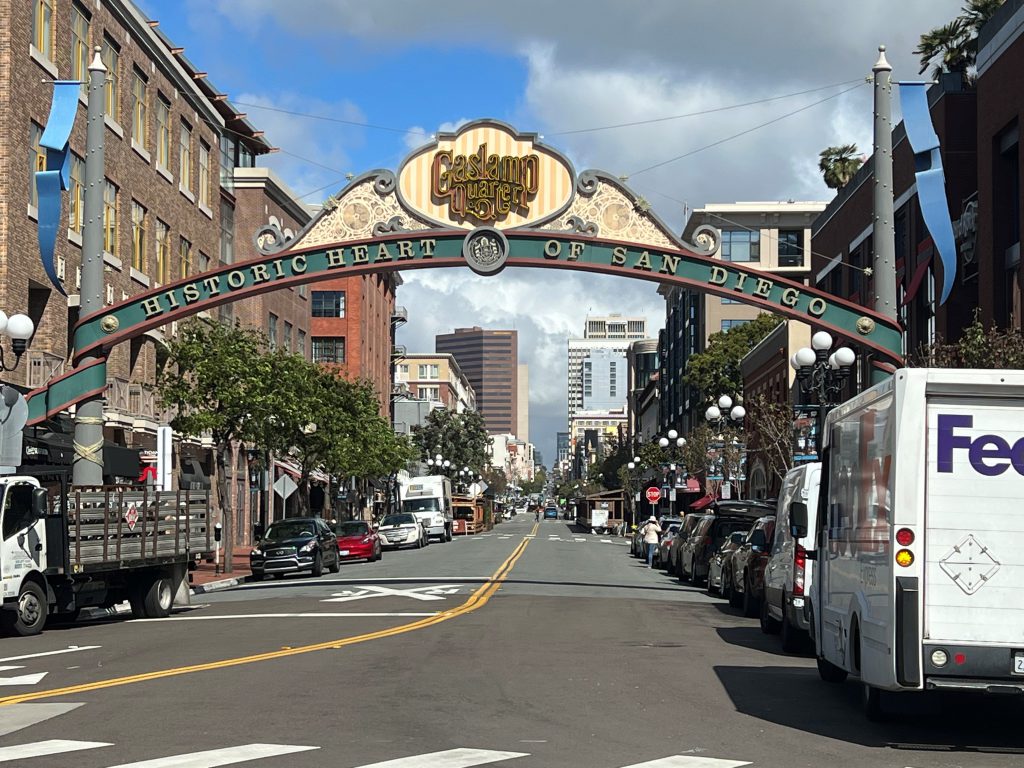 Parking
As with any vacation, needing a car depends on where and what you want to do. For anything within the city, you can easily get an Uber, Lyft, or Circuit. Use the Circuit app to get picked up and ride for free within the city, — you only tip the driver. If you want to go to outlying beaches, look at the Carlsbad flower fields, or try a winery in Temecula, you might want to have your own car. But be aware of the parking fees — again as a MVC owner, you still are required to pay for parking. It's $50/day for Valet or $39/day for self-parking. I personally haven't used the self-parking garage, but I have heard it is quite the adventure! The property sends this information in an email before you arrive: "The self-parking entrance is on Seventh Avenue and is a very narrow corkscrew helix 11 levels up to parking. For that reason, we recommend valet parking. Larger vehicles are not recommended. (Clearance 7″ 2″)."
I have heard from people that get creative to avoid paying the parking fee. There are some nearby parking places for free for 2-hours until 6:00 pm and free after that until the next morning. These avoiding parking fee guests "rotate" their car around during the day to avoid receiving a parking ticket. Some park off-site at another parking garage and walk to the property, reducing the parking fee a bit.
Safety
Some large cities have become progressively dangerous to park your car on the street. Theft and smashed windows have become more common in places such as San Francisco. We drove and parked to at least one destination each day, and never saw or heard of any issues with anyone around us. It can be hard to find a parking place, but it's safe to leave your car when you find one. Walking around the city wasn't scary either, though there is a problem with homelessness. I wouldn't recommend you walk outside after dark, unless with a group of people. Having said that, the city was VERY clean — no trash anywhere.