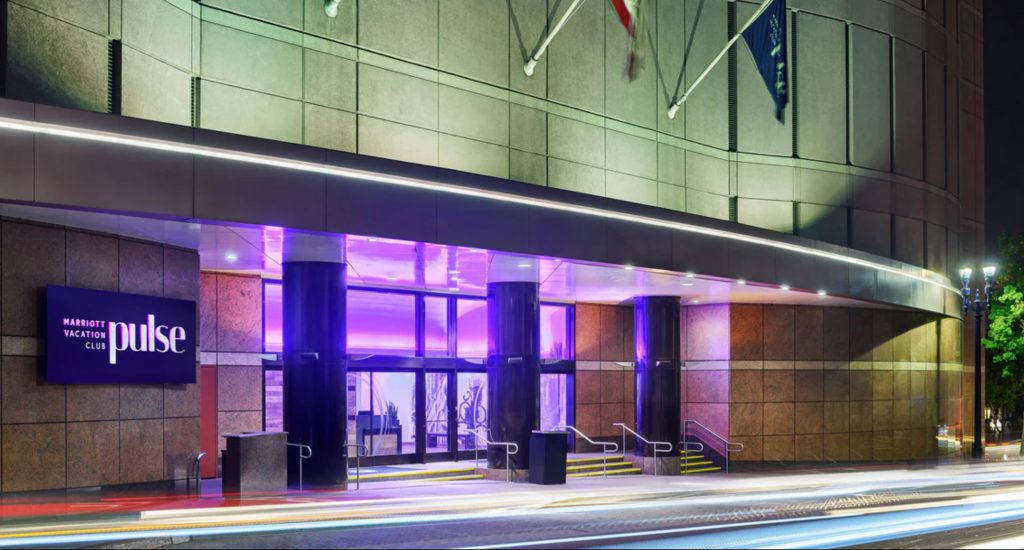 You've finally arrived, and if you're like me, you're excited to begin your adventures. Here's a few things for you to know that will help your check-in go smoothly.
Lobby
As I explained in my previous blog post https://maxingmarriott.com/2022/03/09/all-things-pulse-san-diego-what-you-need-to-know-before-you-go/ you must pay for parking even if you are a MVC Owner. The only exception on paying for parking is if you are attending an Owner Event, in which case your parking fee is waived. Whether you enter the MVC Pulse building from the Valet entrance, shown above, or enter the self-parking garage on Seventh Avenue and drive up the 11 levels, you will need to go the 12th floor to get to the lobby and check-in. From the self-parking garage elevator, walk through SHAKE area (lounge) to the other end where the lobby is. From the Valet entrance, go up the elevators, and exit into the lobby.
Elevators
I usually don't mention elevators in my posts, unless they are exceptionally slow or crowded. I have to mention the elevators in the Symphony Tower — they are WAY COOL!! You would use these elevators if you are going downtown towards the Gaslamp Quarter. I purposefully rode these elevators at least once a day to experience them (my husband thought I was showing early signs of Alzheimer's because I got such a thrill out of such a simple thing). You don't press a "down" or "up" arrow to retrieve an elevator. You select which floor you want to go to on a digital keypad. In the example below, we were on the 12th floor. We pushed "G" for Ground floor, and the screen shows you which elevator to get on. Once you enter, it whisks you away — no entering in the floor number on the elevator.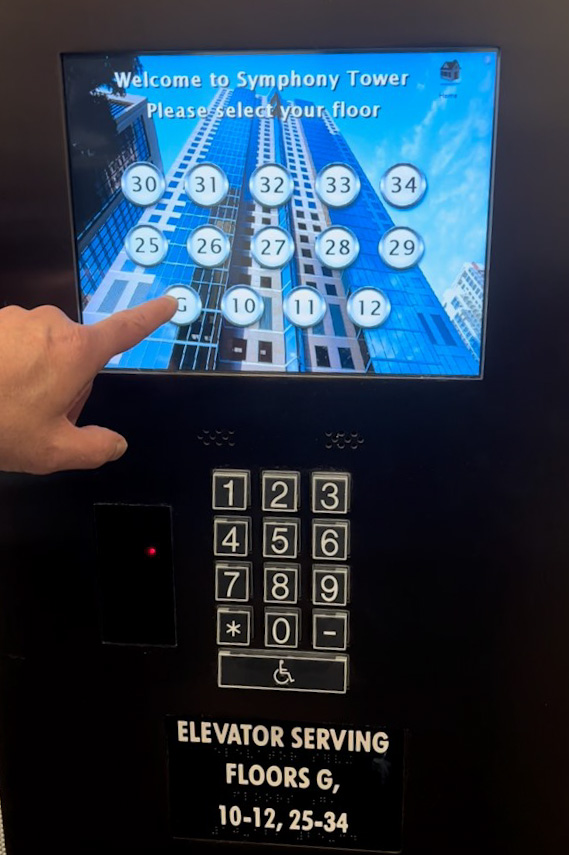 Checking In
Normal process for checking in. Take the time to get your Owner's Discount Card. The restaurants are a good selection, and you even get a discount to SHAKE Bar and Lounge on site. Once you have all the materials, you proceed to a DIFFERENT elevator for your room. And as with all MVC properties, your key card is required to activate.
The Fitness Center is on the same floor as the lobby, as is the Marketplace and the indoor pool. The hours of operation for both the pool and the Fitness Center is 5:00 am to 11:00 pm. The Marketplace is open 24/7 and is located next to the front desk. SHAKE Bar and Lounge is open from 6:30 am – 11:30 am and 4:00 pm – 10: pm. It includes Starbucks, pastries, bagels, hot breakfast items, sandwiches, pasta. Your Owner Discount Card gets you 10% off of your order.

Masks were not required anywhere on the property.