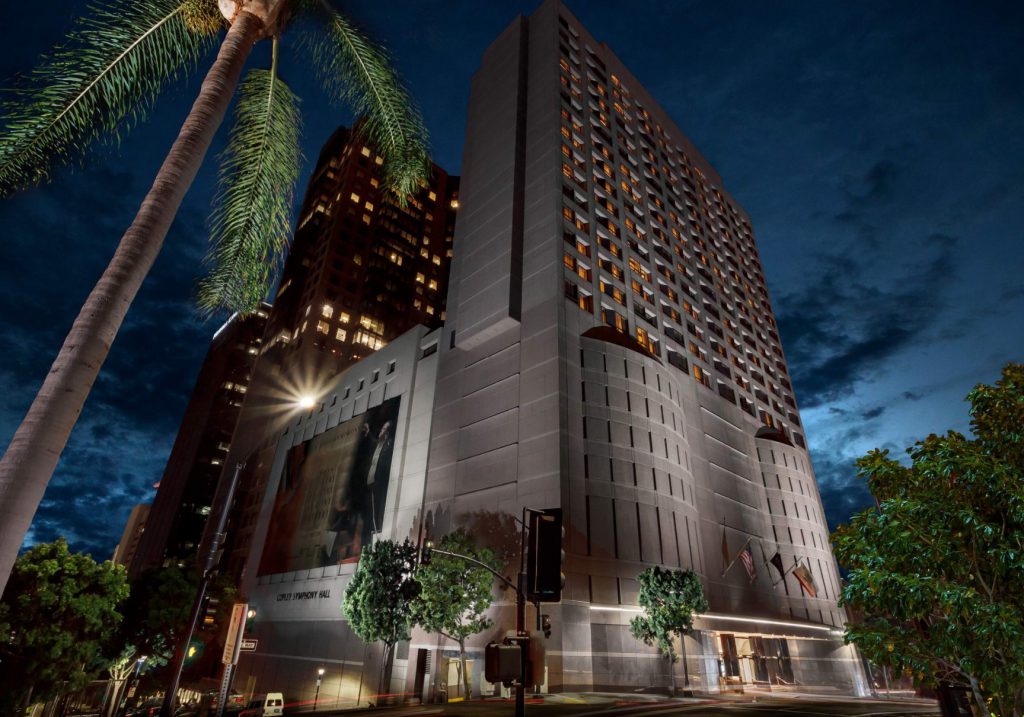 About every month or so I post about the current Owner Events available to MVC Owners. They range in points from only 600 Destination Points to 4200 Destination Points to attend at various destinations located throughout the United States. The activities range from Broadway Shows, concerts, golf, wine & food festivals, tours — you've got lots of choices. I also provide a chart showing the VALUE of each event (retail price/DP required). Some are a great value, such as Concours d'Elegance or Culinary Weekend Tour, both in Hilton Head, SC at $2.42 and $2.35 per Destination Point, respectively.
But after participating in a recent Owner Event in San Diego "Garth Brooks", I have a little different perspective on the value of an event than what I had before I attended the concert.
Each event has a listed Itinerary of what you will do each day. Things such as Checking in, and dinner at a particular restaurant is common for the first day. But what you AREN'T told is the personal touches you might receive in addition to the things listed on the itinerary. Let me explain.
For the San Diego "Garth Brooks" event, before you even arrived, the Owner Events team has prepared for your arrival. They have ensured you get a very nice room with a great view. They have created a welcome "wagon" — too big to be called a welcome basket — filled with granola bars, candy bars, fruit, chips, water, juices, wines, vodka — anything they think you would like to snack on and sip during your four day stay. Upon your arrival to check-in, the front desk calls the team, and a member comes and personally greets you at the front desk. After introductions, they give you the Owner's gift (without you having to go to the concierge to receive it), and escorts you to your room. I especially appreciated that, as I had a few questions about where we go to meet, and Ramon was able to show me the room before we went on the elevator.
Upon entering your room, you see the large welcome "wagon" with a personalized professional greeting card and a handwritten note, place cards, and lanyards with your name on them to wear while at the various functions. There was also a very nice magnet and a key chain of the concert. It really makes you feel appreciated and the perfect way to get really excited about what upcoming adventures you will experience. Take note that on the itinerary, it only said:
Check-in at Marriott Vacation Club Pulse, San Diego
To participate in all scheduled activities, please arrive by 4 p.m.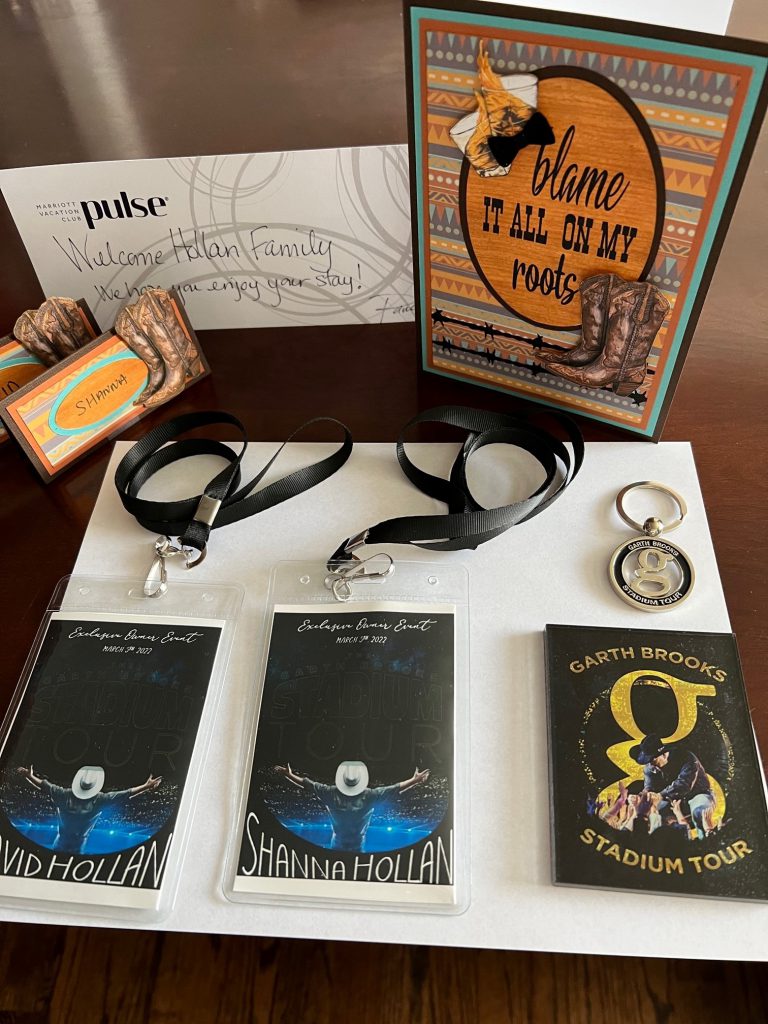 Yes, dinner was provided (transportation included) to a very nice restaurant in the historic Gaslamp Quarter. Yes, breakfast was provided the next morning as well. And then there was the concert. Here is what the itinerary stated about the concert:
The Garth Brooks Stadium Tour
Experience an unforgettable evening in a private luxury suite and witness the country music legend and seven-time CMA Entertainer of the Year at his finest.
And what actually happened? Well, first we all met together for what I would call a "Munch and Mingle". There were drinks of all kinds (champagne, wine, water etc.) and charcuterie boards filled with cheeses, meats, dips, and crackers. We munched and mingled for a while before we headed off to the concert. Because of the traffic issues to the concert (this was the BIGGEST concert EVER at Petco Field with over 53,000 guests), and because all owners were in good health, we decided to walk the 3/4 mile to the stadium. The Owner Event team stayed right with us the entire time to make sure we didn't get lost. Upon arrival at the stadium, they literally took us through security and scanned our tickets for us. Then led us to the private suite reserved for our group.
Upon arriving at the suite, everyone spontaneously gasped at the view. And then we saw the food. And the drinks. We got there early to avoid any long lines (we walked right in), and enjoyed watching the arena fill up with people, eating and drinking and talking and laughing and truly having the time of our lives. The concert was AMAZING. And we really appreciated our private suite when it started to rain and we stayed dry. It could not have been more wonderful.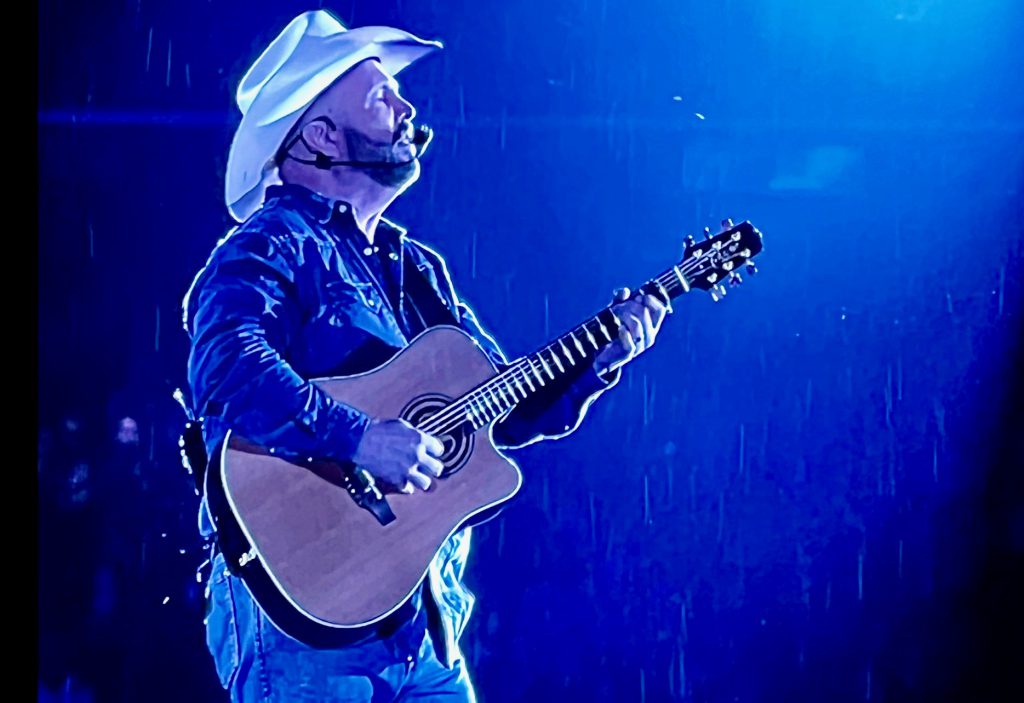 And THAT is why my perspective changed. This wasn't one of the "great deal" Owner Events available. But I could not have arranged for such a warm welcome, or wonderful concert experience on my own for the Destination Points it took for owners to attend this event. We had those experiences because MVC organized the VIP experiences for us, and frankly it was worth more than the 3600 Destination Points it took to go.
I get it — for some people, 3600 points wouldn't be worth it to see Garth Brooks. But to receive the VIP treatment to experience a Broadway Show, or a PGA Golf Tournament, or Wine & Food Festival, or whatever — the memories could be worth way more than a week on some beach reading a book.
One more thing you need to understand about Owner Events. Each property is responsible for what is provided at the Owner Event. So Pulse San Diego creates the personal greeting cards (hires it done), the welcome wagon, etc. for the Owner Events that happen at the Pulse San Diego. New York Pulse might do their events differently. And I haven't been to the other events to give you a rundown on what that will look like. But I do know that San Diego hit this Owner Event "out of Petco stadium" and provided an experience for their owners that will not be forgotten. Not to mention the friendships made amongst the owners who participated.