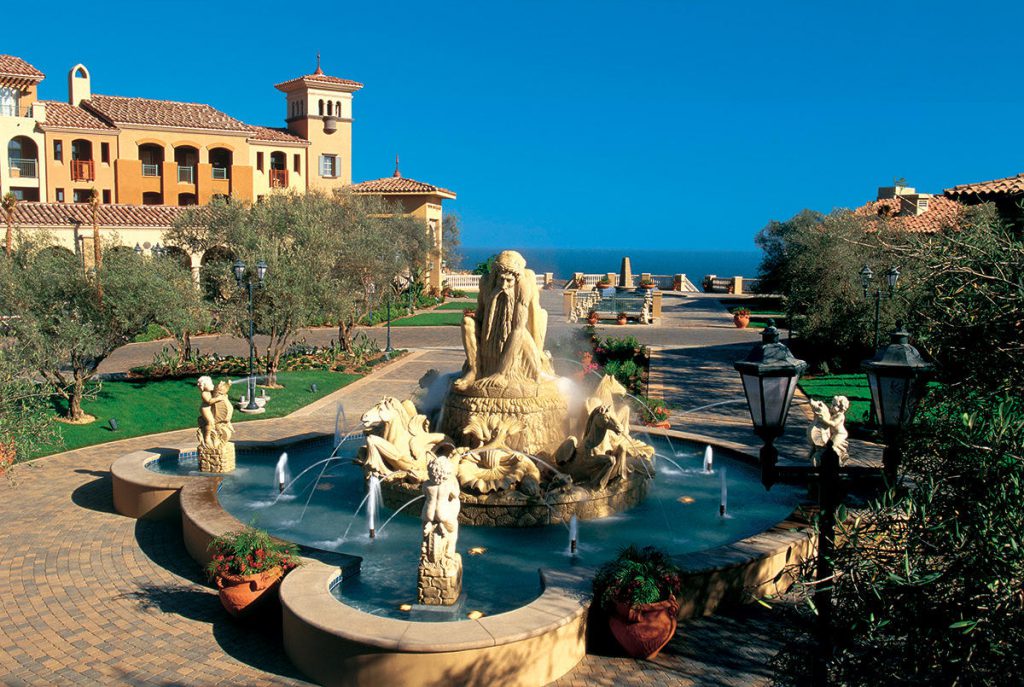 Checking in at such a large resort can get chaotic around the 4:00 check-in time — no matter what day of the week it is. Even with six agents standing behind plexiglass windows all working to check in guests as quickly as possible, you can wait in line for a while.
Marriott is now sending a welcome text to their guests upon checking in. If your room isn't ready yet, it tells you to enjoy the amenities and what account to charge until you are notified the villa is ready. You can also text BELL, and they will provide you someone to help you with your luggage. For anything you need during your stay at the resort, you text that same number, and they respond pretty much immediately confirming your request will be met within less than 30 minutes. I tried calling from the villa a few times and never got an answer, so texting them directly is the way to go. If you don't receive a welcome text pretty quickly after checking in, they probably entered your phone number incorrectly. That's what happened to me, and I thought it wouldn't matter. But since they don't answer their phones (I tried a number of times), texting became pretty important. I just went to the front desk, and the error was corrected.
The parking policy is totally adequate. For each villa, you get 1 "green" pass to display in your driver's-side window. You also get 2 additional "yellow" passes to put in any additional cars if needed, but they must park in the parking garage. No fees. There are also charging stations in the parking garage.
One recommendation I would suggest you consider is getting the MVC Miracle Band Key if you don't have one. The more I use mine, the more I LOVE it!! I never have to try and remember where I had my key last. It's always on, and very convenient to access the pool, villa, or gym. They are waterproof, and reliable. They don't cost much, AND your purchase is donated to the Children's Miracle Network. Something to check into if you like convenience. And every time I used it to get into the pool, I heard "Oh, that's cool" from the nearby guests. You can read more about it here. MVC Miracle Band Key
The towel policy changes at this resort changes more than the weather. Each villa receives 8 pool towels. A recent change is that you can exchange your pool towels at the pool between noon and 6:00 pm! That's a great modification that is much more convenient. Or, you can text for a towel exchange, and they will bring by clean towels for you to your villa — either bath towels or pool towels. Housekeeping is very obliging, and if you catch them in your walkway, you can ask them to exchange towels. If you are like us with our large family that arrived before all the villas were ready, we "rented" towels from the front desk, and had to return them before 5:00 for no charge.
There are no restaurants on site, but the grill at the pool makes good food. I was glad to see the Poke Bowl return to the menu. If you are the resort on a Tuesday evening, "Taco Tuesday" is a great deal and really yummy!!!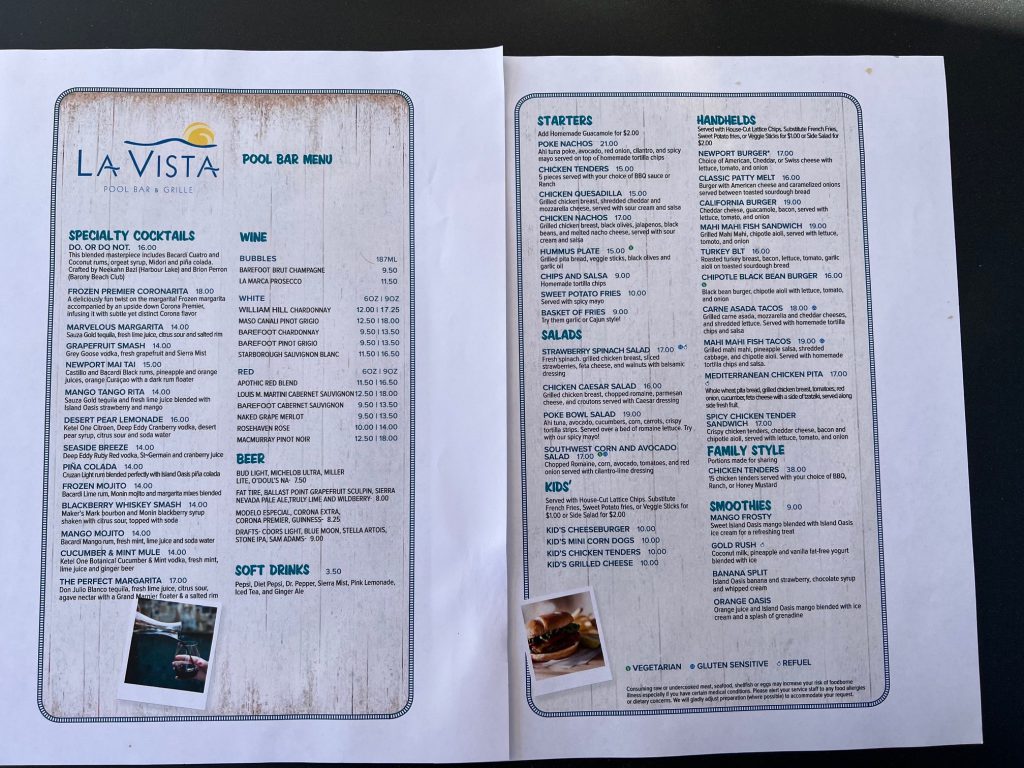 Sometime that first day, after checking in, we always make a grocery run. I really love the Pavilions. They are very close (21181 Newport Coast Dr, Newport Coast), and have a good selection. BEFORE you go there, make sure you create an account linked to your cell number. (Go here to set up your free account). Pavilions — Newport Coast Drive. We used to be able to say we were staying at the Marriott Newport Villas and get their member discount. They have discontinued that, and you now must have your own account. And it is TOTALLY worth the hassle to get registered. The first day, our entire purchase was $19, and we saved $8 by having an account and getting their member prices!
If you are traveling with a large group, we always go to Costco (27220 Heather Ridge Rd, Laguna Niguel). It is about 8 miles away, but takes about 20 minutes to get there on non-toll roads. Make sure you have your "toll roads OFF" option set on your phone. We were charged a hefty fee to use the toll road for just a mile ($17.50) — more than my frugal personality wanted to pay.
The most convenient way to get your groceries is ordering them to be delivered. I cover all about that and the discount codes to save money Ordering groceries to be delivered while at Newport Coast Villas
Make sure you stop by the Concierge's Desk and pick up the Vacation Privileges Card. The discounts are for restaurants in the area and range from 10-20% off, or a free appetizer and dessert. We LOVE Shake Shack, and The Beachcomber, which are both included on the list. Be prepared to be asked about doing a Sales Presentation, if you haven't already agreed to do so. We also received an Owner's Gift — a coupon for a free Shutterfly book, two water bottles and a spray pump to "mist" ourselves. Oh, and 2 granola bars.
Then if you are anything like us, we put on our tennis shoes, and head down to walk along the beach!! The upcoming days are going to be AWESOME!!!