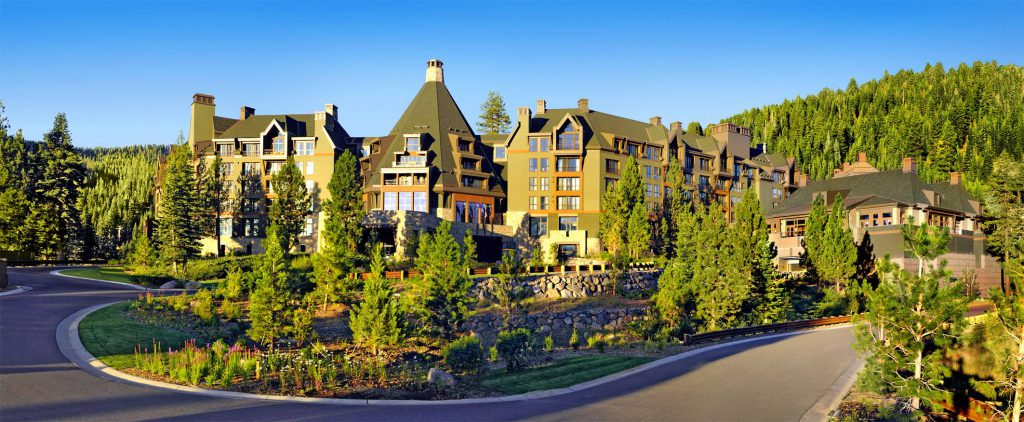 Lake Tahoe is one our favorite destinations! And there are 3 MVC properties available to use your Destination Points and make your reservations in the Tahoe area. A question I often get from MVC Owners is, "Which Tahoe resort is the best one to go to". Let me explain the differences of the resorts, and then you can make the decision that best meets your family's needs.
Ritz-Carlton Club, Lake Tahoe, Truckee
Ritz-Carlton is considered a luxury property, and just looking at this picture verifies that. It is located near Truckee, CA and is a ski-in resort during ski season. It is NOT on or very near Lake Tahoe, and is more secluded and much quieter than any of the other MVC resorts in Lake Tahoe. You can ride the gondola to visit Northstar, a ski resort, where there are several great restaurants and shops. Hiking is wonderful. Skiing is very convenient.
During the summer, The Ritz-Carlton, Lake Tahoe extends an exceptional level of luxury to the North Shore of Lake Tahoe. Limited to 40 guests a day. Complimentary kayaks and standup paddle boards are provided for guest use, additional water sport rentals are available. The listed daily price is per person. Does not include 25% service/gratuity charge and 7.25% taxes. Inclusive food and beverages. Alcoholic beverages are available to purchase. A complimentary shuttle is provided.
According to owners who have stayed here, what makes this resort their preferred resort is the service they receive. From checking in, to the amenities they enjoy, and the personal attention they receive, they prefer staying here over the other MVC properties in Tahoe. Lately, the owners have been especially positive about the children's activities provided — making this a wonderful destination for families with kids. The Club is next to the Ritz-Carlton hotel, and you can use the amenities at the hotel, which is an added benefit. Tripadvisor has a 4.5 rating for this property.
It's harder to find availability at this resort. At the time of this post, I found NO availabilities over the next 13 months. But they do show up, and if you are vigilant or put your name on the waiting list, you might grab the reservation. The number of points is much higher here than the other MVC Tahoe properties.
Marriott's Grand Residence Club, South Lake Tahoe
Before Marriott Vacation Club came to be, Marriott had Grand Residence properties. These are high-end rooms ranging from studios to 3 bedrooms. This is the only Grand Residence property in the MVC program. They are listed as Grand Residence Club 1 and Grand Residence Club 2. Availability is much less on the the Club 2 property, which also is the only one of the two with 3 bedrooms. They are both located at the same property — same parking, same swimming pool, etc.
I personally have never stayed at a Grand Residence, but owners who have say that this property is quieter than the next-door Timber Lodge. There are not as many planned activities, a quieter pool, and an older generation for guests overall, their words, not mine. The rooms are larger than Timber Lodge, but there is no washer or dryer in the rooms, though a laundry room is on each floor. The location is in Heavenly Village, right next to the gondola that runs almost year round for skiing or sightseeing/hiking.
Owners who have stayed here LOVE the location — close to restaurants, ski-in during ski season, grocery store across the street, and of course, in South Lake Tahoe! Tripadvisor has a 4.5 rating by over 1,000 guests for this property. Only valet parking at this resort at $32 a night, but if you are an owner, you there is no charge.
Marriott's Timber Lodge, South Lake Tahoe
Timber Lodge is the resort we stay at when visiting Lake Tahoe. It is located on the other side of the gondola from Grand Residence Club. In fact if you stay on the gondola side of the Grand Residence Club, and the gondola side of Timber Lodge, you can see the guests across the way through the windows. Since the location is the most positive aspect mentioned by owners who stayed at Grand Residence, it is also a very positive attribute of Timber Lodge. It usually takes less Destination Points to stay at Timber Lodge — thus the reason we always stay there. But the last year or so, the points are getting more even with each other.
There are planned activities and a restaurant onsite — "Fire and Ice". But there are so many restaurants so close, that the restaurant isn't really an added benefit over the Grand Residence Club properties. One definite advantage in my opinion is a washer and dryer in each unit (1 or 2-bedroom villas). Only valet parking at $32 a night, but if you are an owner, you get 1 car free per reservation. Tripadvisor rating is 4 stars.
All of these properties are winners in my book. The Ritz is a Ritz, so it will be nicer with more personal attention, but you pay for the added benefits. I personally the South Tahoe location and being near so many fun restaurants, shops and of course — Lake Tahoe!! It is truly one of the most beautiful lakes in the world!! Reserve on shoulder seasons to max your value. You will LOVE it!