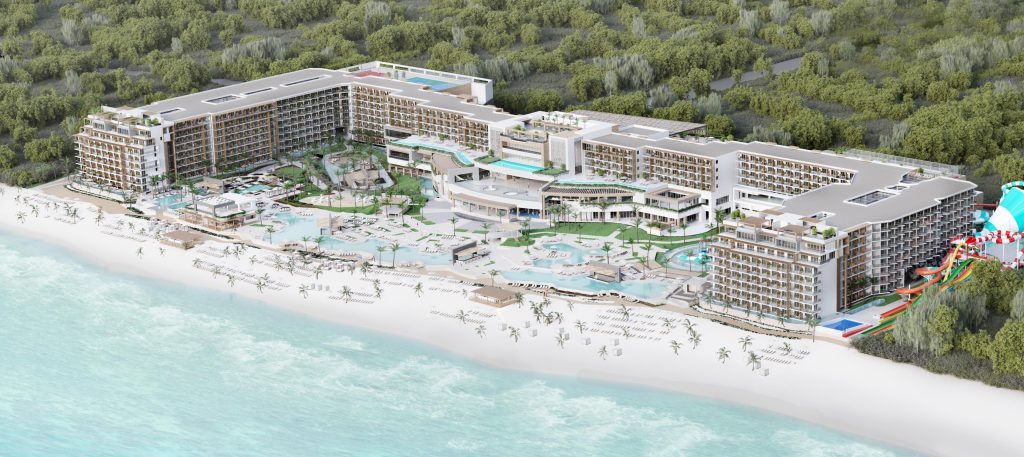 Last year Marriott announced the addition of TWENTY new all-inclusive resorts for their guests to enjoy. Today they announced the addition of another all-inclusive resort, Royalton Splash Riviera Cancun, that will be opening later this year. Just look at that picture!!!
Royalton Splash will be part of the Marriott, Autograph Collection and is owned and managed by Blue Diamond Resorts — one of 20 other Blue Diamond Resorts that have joined the Marriott collection in the last few years.
This resort will have over 1,000 rooms and includes a waterpark, theater, bowling alley, and water attractions (it looks like in THIS picture the water could BE the attraction!). There will be TWELVE restaurants on-property, and nine bars. Oh, and did you catch this is an all-inclusive resort??? You could stay an entire week and eat at a different restaurant every night!!
I've heard the chatter that guests don't like paying EXTRA for everything to be included. And I've heard just the opposite. Not sure which side of the fence you sit on, but before you walk away, check out how much it might cost, including your meals. Marriott hasn't revealed the cost or Bonvoy points required for Royalton Splash yet. But the nearby Hideaway @ Royalton Riviera Cancun, An Autograph Collection, All-Inclusive, Adults Only, and Royalton Riviera Cancun, An Autograph Collection, All-Inclusive Resort and Casino (both all-inclusive resorts), are going for 50k-70k Bonvoy points a night. I'm thinking the cost will be very close to the same as the other all-inclusive resorts.
Just in case you're wondering what does all-inclusive mean? Those all-inclusive benefits are using the enormous on-site splash park, supervised kids and teen clubs, and non-motorized water sports, perfect for days spent making unforgettable memories together all included in your price. Guests of all ages will enjoy Royalton's signature All-In Luxury concept, featuring unlimited, reservation-free dining, and upscale accommodations all included in your price.
Let's do some fun "What ifs". What if you could stay at the Royalton Splash for 60k Bonvoy points a night. What if you used your free Elite night American Express certificate of 50k for one of those nights and add on 10k of your own Bonvoy points for a total of 60k needed. What if you reserved an additional 5 nights for 240k (getting the 5th night free). You would be staying at the above pictured in an all-inclusive resort for 6 nights for 250,000 Bonvoy points in Cancun!!! Sounds like a dream!
I'll keep this new resort on my radar for when we can start reserving there. Until then, envision you sitting on that beach trying to decide which of the twelve restaurants you will visit next!!