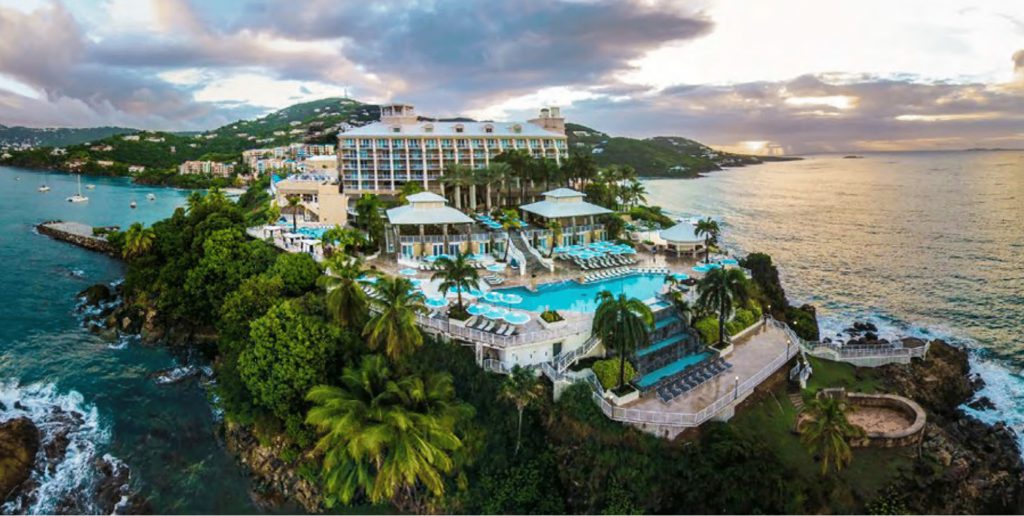 It's official — the above pictured resort has been renamed to "The Westin Beach Resort & Spa at Frenchman's Reef". And the next-door Morningstar Resort is now named "The Seaborn at Frenchman's Reef, Autograph Collection." There is great anticipation for these resorts to open. The latest update stated these properties would both open "in the fall", but further clarification was not given. In checking, neither of these properties are listed on the Marriott.com website yet.
Both St. Thomas properties have been closed since September 2017, when they suffered extensive damage from Hurricanes Irma and Maria. With their opening, it will positively affect the MVC property Frenchman's Cove. TEN more restaurants will be added, and 4 more pools — not to mention the Heavenly Spa by Westin that will by a high-end amenity. MVCI has not yet announced whether MVC Owners staying at Frenchman's Cove will be able to use the pools with no fees. But definitely the restaurants will be open for all guests!
The rebuilding process has been complicated by a change in ownership, and construction delays blamed on Covid-related labor shortages. There have also been branding and name changes, the addition of a proposal to put in breakwaters at the mouth of the bay at Morningstar, and a price tag that has risen dramatically. Presumably, the reopening can take place as scheduled regardless of the status of the breakwater project, which will take about 4 months to complete once started. The project will establish breakwaters at the mouth of the bay at Morningstar Beach, where the water is frequently rough. Proponents intend to replace sand that was washed away by Irma and subsequent storms — a nice enhancement to the beach area for sure!
Cost estimates for the rebuild continue to rise. When the rebuild first began, the estimated cost was announced as $200 million. The latest estimated figure is anticipated to be more than $400 million!
I'll keep you updated as I receive information about this opening! It will be SWEET for MVC Owners when staying at Frenchman's Cove! You can read my previous post about these properties, including amazing photos here: Frenchman's Cove Getting Better!