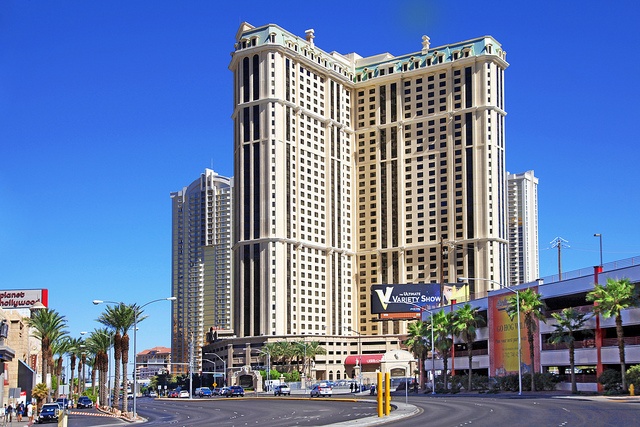 BEST value for your Destination Points is usually Destination Escapes, which are posted at the beginning of each month. It is more than halfway through June, and Destination Escapes for August have just posted. What that tells me is that so many people are traveling within the next few months, there aren't many properties that have excess inventory. I guess that's a good thing unless you have a bunch of holding points you hope to use on an incredible deal.
Only two resorts are listed for Destination Escapes, but they are still good deals if you want to go somewhere hot in August. The best deal by far is the Grand Chateau in Vegas — a 1-bedroom is pretty much your only option and only from August 1-15th. You can stay here in a 1-bedroom villa for 3 nights using 360 Destination points, 4 nights using 480 points, or the BEST deal is 7 nights for only 840 points! That is a 46% discount — basically getting almost twice the nights you normally would have without the Destination Escapes discount.
The other property that is an option for Destination Escapes in August is Desert Springs Villas I. For this property, even though the resort has 1 and 2-bedroom villas, you will only be able to reserve a studio with the Destination Escapes discount. Reservations would need to be between the first half of August. For 3 nights you would use only 180 Destination points! Four nights would take 240 points, and the best deal is 7 nights in a studio for only 420 points — that is a 29% discount.
Again, both of these properties are going to be hot in August. But weather definitely isn't a deal breaker, thanks to many options that keeps you indoors in the heat of the day.
To make these reservations, you will need to call Owner Services. And if these are anything like the other Destination Escapes that have been announced in the past, they go VERY fast!! If this "might" work for you, go ahead and grab it if you will be using holding points to reserve it. Since you are using holding points (WIN), you can cancel with no penalties — the points will be returned to you as holding points (WIN). You should be more selective when making your reservation if you are using Trust or Elected Points, as they WILL be returned to you as holding points, and lose value in their status change. Be pretty confident that you won't be canceling in this situation.