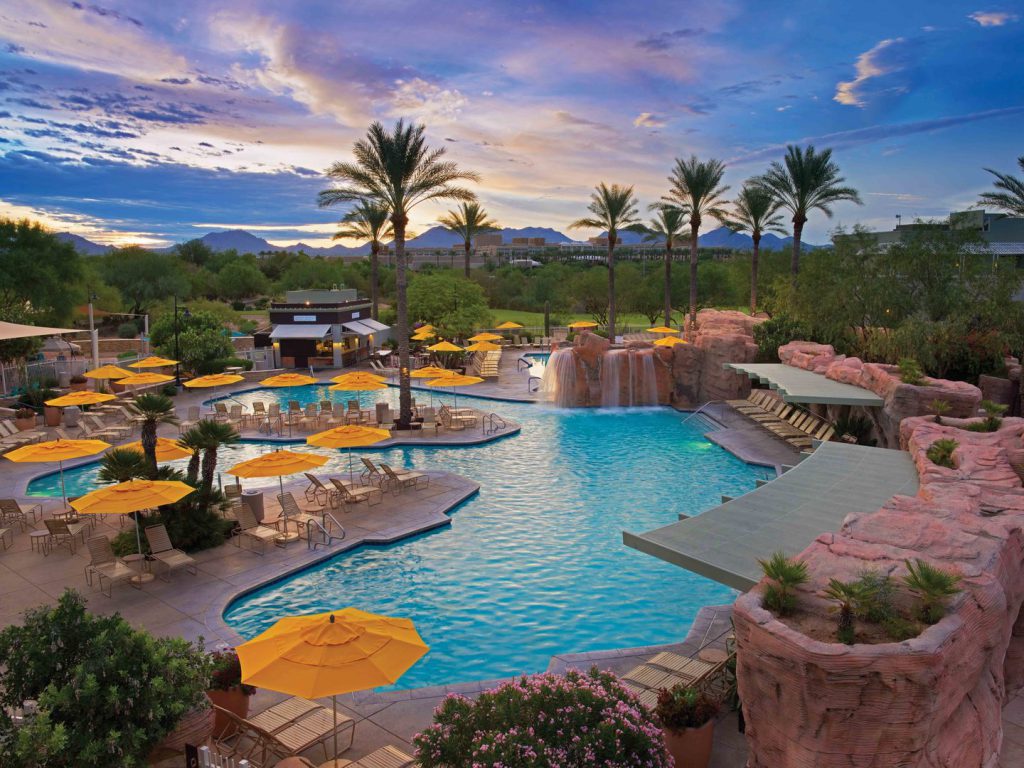 Marriott's Canyon Villas, Phoenix, Arizona
It's the end of the month, and there are new Destination Escape locations announced.  Lots of options – some REALLY good, some not so good.  Let me spell it out for you.
BEST DEAL is Marriott's Canyon Villas in Phoenix, Arizona.  These dates are for June, which doesn't include the 60-day discount for owners depending on their status level.  And the numbers indicate it is a GREAT DEAL – and one you should consider if you have some Holding Points or want a getaway vacation.
Only Guestrooms are available for 3 or 4 nights.  Any of the date options gives you great savings, but to MAX your points, reserve June 7, 8, 15 or 16 for 4 nights.  Normally, that would take 850 Club Points – Destination Escapes only takes 240 Club Points for the same thing – a whopping 72% discount.  The only negative about this option is that it is only a Guestroom instead of the roomier 1-bedroom.  But heck, with a 72% discount, I can handle that!!
Another really great Destination Escapes deal is the Marriott San Diego Pulse property.  You can stay either 3 or 4 nights – all villas are 1-bedroom (listed as Guestroom, but they have a sliding door to close off the bedroom from the living area.  I've stayed here, it is closer to a one bedroom than a guestroom in a typical resort). You save on all date options, but the BEST day to check in to MAX your ownership would be May 26.  Normally that would take 786 Club Points for three nights (includes 60-day owner discount). But with Destination Escapes it would take only 360 Club Points – a 54% discount!!  And San Diego in May is a GREAT time to be there!!!
Desert Springs Villas II in Palm Desert also is a great option with Destination Escapes.  There is only a 1-bedroom option with either 3, 4 or 7 nights – all in June.  Best dates to check in to MAX your ownership is June 14, 15, or 16th spending only 360 Club Points with Destination Escapes instead of the 660 Club Points through the normal reservation process – a 45% discount!!!
Timber Lodge in South Tahoe is another option for dates throughout May.  But beware – only use the Guestroom option if you want to MAX your ownership for a 14% discount.  Either the 3 or 4 days would save you 14%.  But if you reserve the 1-bedroom for either 3 or 4 days, you actually use MORE points if you use the Destination Escapes Discount – DO NOT DO THAT!!! 
Mountainside in Park City is also a Destination Escapes discount option for April and May dates.  Not a good deal at all.  DO NOT USE DESTINATION ESCAPES TO STAY HERE IN MAY.  In every situation – 3 or 4 nights – Guestroom or 1-bedroom – ALL require MORE Club Points if using Destination Escapes than a normal reservation.
Sorry East Coast followers – no Destination Escapes in the East for this go around. Maybe next time!!!