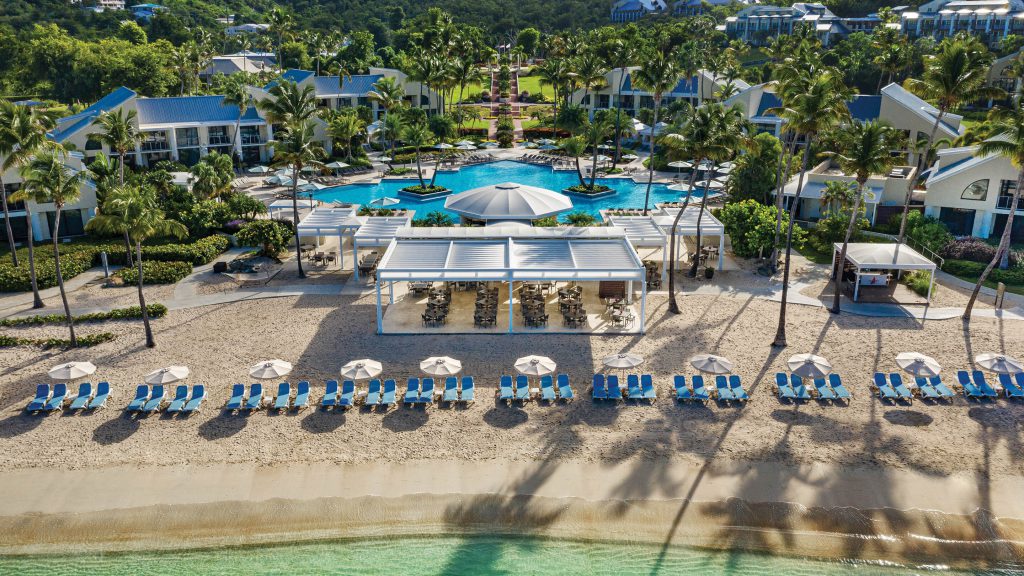 Anyone who follows me knows that the Westin St. John has been on my short list for a few years.  It is extremely hard to trade points and stay there because the Owners are all Deeded Owners.  Unless they deposit their weeks into Abound, there will be no availability for other owners trying to use their points to stay there.  And St. John owners have no problem renting their villas to travelers willing to pay top dollar to stay there. Thus – no availability for Owners to reserve through Abound.
Try it yourself anytime.  Search for 7 nights available anytime for the next 12 months and you will get the recurring message "No Availability" over and over again.  So how do you stay there using your Club Points??
First find a week you want to stay in St. Thomas at Frenchman's Cove – just a short ferry ride away from St. John.  I know, you are thinking "I thought you were telling me how to stay at the Westin in St. John?"  Just stay with me here.  Instead of reserving 7 nights at Frenchman's Cove, make TWO concurrent reservations for same room type to total 7 nights.  For example, reserve 3 nights in a 1-bedroom villa from June 20-23.  Then make another reservation in a 1-bedroom from June 23-27.  Same number of total Club Points, same number of nights – just 2 reservations.  Since you are in the same room type, you will not be required to move to another villa for the second reservation. 
Come the day you check into Frenchman's Cove (or even a few days before), check availability at Westin St. John. Marriott releases inventory not reserved for the current week. 
A Marriott rep told me about this little trick, and I have checked to see if availability shows up in St. John as he said, and it has.  Everything from Studios, 1-bedroom, and 2-bedrooms. For a few weeks there were even 3-bedrooms that became available!  And since you are reserving the St. John resort within 60 days of travel, you get the 60-day discount – using less points to stay there!! 
Just for kicks and giggles, let's say we arrive at Frenchman's Cove, April 22, 2023, using our 3-night reservation we made months ago when it was available.  It would cost us 1625 Club Points for 3 nights, and an additional 2100 Club Points for the following 4 nights – both reservations in a 2-bedroom villa for a total of 3725 Club Points.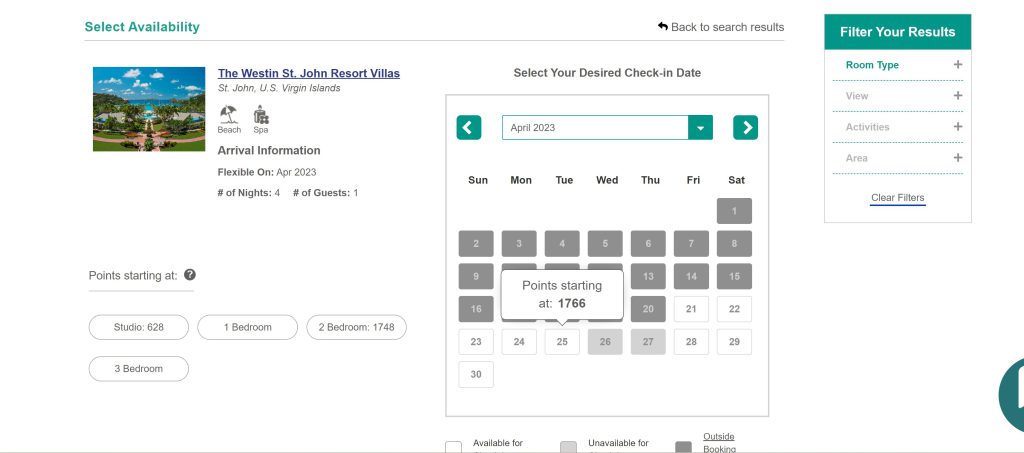 By checking on the Abound website April 21, 2023, we can see that there is indeed availability at Westin St. John for 4 nights in a 2-bedroom villa.  We can cancel the 2nd reservation at Frenchman's Cove, and get 2100 Holding Points back – as long as you cancel before 24 hours of the check-in date, you won't lose any Club Points. The points become Holding Points that must be used with 60 days of travel.  No worries because you will use those holding points to reserve the Westin St. John for April 25 for 4 nights – 2 bedroom villa for only 1766 Club Points – getting the 60-day discount (30% off for Chairman level).  Not only do you spend the final 4 days of your vacation at the Westin, but you have 334 EXTRA holding points to use on another vacation!!!  PINCH ME!! 
As I mentioned, I have been checking each week for about a month, and there has always been availability at St. John for the current week.  Worse case scenario – there is NO availability, and you stay at Frenchman's Cove for the entire week.  Not a bad scenario at all!!