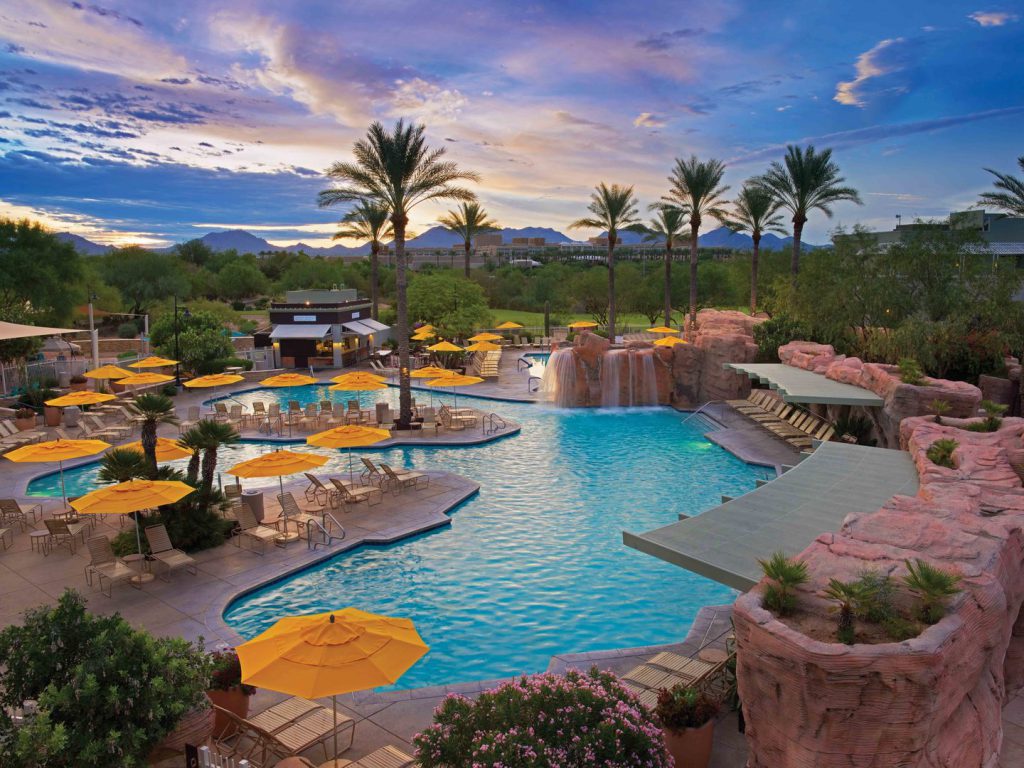 I usually get anxious to see what Destination Escapes deals will come out each month. You can sometimes grab some great resorts with drastically low points — and possibly use holding points to do it!! I'm talking more than 50% fewer Club Points. But those deals are fewer, and the choices are much more limited.
For September, there is only ONE Marriott resort option using Destination Escapes — Canyon Villas in Phoenix. It's a great resort, but going there in August — well I can see why there is lower reservations being made during this time. And flexibility isn't an option, as there is only ONE date to choose from — September 5th. That's it. You can go 3 or 4 nights in a Studio or a 1-bedroom, both villa types must check-in on September 5th. Or you can go 7 nights in a 1-bedroom, again checking in September 5th. And the discounts aren't deep.
Bottom line — the best deal is staying in a Studio (Guest) for 3 nights, using only 180 Club Points compared to the 263 points if you didn't use Destination Escapes. (That is including the 30% discount given for travel within 60 days to Chairman level owners). That equates to 32% discount. The other options range from 24% for 3 nights in the 1-bedroom to 14% for 5 nights in the 1-bedroom.
There are only THREE other resorts listed in Destination Escapes for July, and August — each having only ONE date option. They are Desert Springs, Palm Desert, CA on Aug 29, 2023 for 3 nights in a Guest or 1-bedroom. Or Grand Chateau, Las Vegas, NV on July 17, 2023 for 3 nights in a 1-bedroom. And Sabal Palms in Orlando for 3 nights on Aug 2, 2023 in a 2-bedroom villa. Not a lot of options — not a lot of resorts. I'll keep hoping, and checking, and reporting on the best Destination Escapes deals as they are posted. Let's hope there is something to celebrate about in the future!!!